Pedestrian refuge island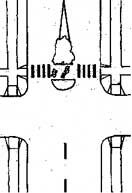 A pedestrian refuge island is a raised island placed in the center of the street at intersection or mid-block locations to help protect pedestrians from motor vehicles. As with medians, refuge islands allow pedestrians to be concerned with only one direction of traffic at a time. For example, a pedestrian can cross to the refuge island and wait for an adequate gap in traffic before crossing the second half of the street. Where mid-block or intersection crosswalks are to be installed at uncontrolled locations (i.e., where there are no traffic signals or stop signs), raised medians should be strongly considered as a supplement to the crosswalk. Pedestrian refuge islands can be as narrow as 4 feet, but 8 feet is preferred.
Estimated cost: $6,000-$10,000 for basic island, more for significant landscaping.
Used for
Enhancing pedestrian and bicyclist crossings, particularly at un-signalized crossing points.
Establishing "Safe Routes To School" crossings.
Reducing left turn crashes.
Simplifying pedestrian decision-making to one or two threats at a time.
EcoCity Cleveland
3500 Lorain Avenue, Suite 301, Cleveland OH 44113
Cuyahoga Bioregion
(216) 961-5020
www.ecocitycleveland.org
Copyright 2002-2003
Tools
Bulbout or curb extension
Chicanes
Choker or neckdown
Diverter
Median
Landscaping treatments
Reducing the number of lanes
Pedestrian refuge island
Speed humps and speed tables
Raised intersection
Roadway narrowing
Mini-circle
Woonerf