Median
A median may be considered to be a long pedestrian refuge island that is raised and located near the center portion of the street. Medians provide a refuge for pedestrians and bicyclists who cross a street mid-block or at intersections. Adding medians to existing streets may require reducing lane widths, the number of lanes, and/or removing on-street parking. Medians can be designed with turning pockets at intersections or at restricted locations. Typically, safety is enhanced due to a reduction in vehicle speed and an increase in separation between opposing directions of traffic and a reduction in points of conflict where turns are allowed.
Medians provide a signature landscape opportunity and can increase community pride and sense of place.
Estimated cost: $15,000-$30,000 or more per 100 feet (priced on lineal foot).
Used for
Managing motor vehicle traffic and providing comfortable left-hand turning pockets with fewer lanes or more narrow lanes.
Improving access across streets in commercial, park and transit districts or corridors.
Providing a refuge for pedestrians and bicyclists crossing the street.
Increasing roadway efficiency by up to 30 percent.
Providing space for street trees and other landscaping while reducing water runoff.

EcoCity Cleveland
3500 Lorain Avenue, Suite 301, Cleveland OH 44113
Cuyahoga Bioregion
(216) 961-5020
www.ecocitycleveland.org
Copyright 2002-2003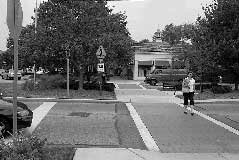 Crosswalk to median at Shaker Square.
Tools
Bulbout or curb extension
Chicanes
Choker or neckdown
Diverter
Median
Landscaping treatments
Reducing the number of lanes
Pedestrian refuge island
Speed humps and speed tables
Raised intersection
Roadway narrowing
Mini-circle
Woonerf