Bulbout or curb extension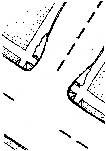 Bulbouts or curb extensions extend the sidewalk or curb line into the street, reducing the street pavement width. Bulbouts calm traffic speeds and improve pedestrian crossings. They shorten crossing distances and reduce the time pedestrians are exposed to traffic. They also improve visibility for pedestrians and motorists.
Bulbouts placed at an intersection discourage motorists from parking in a crosswalk or from blocking a curb ramp. Motorists may travel more slowly at intersections or midblock locations with bulbouts depending upon how narrow the roadway becomes. Used in sequence, especially with landscaping, bulbouts tighten overly wide streets. The more restricted the street width becomes, the slower motorists tend to travel. Bulbouts also reduce turning speeds at intersections.
Estimated cost: $5,000-$20,000 each. But they can be built for little or no additional cost during a street reconstruction.
Used for
Improving safety for pedestrians and motorists at intersections and midblock locations.
Increasing visibility and reducing speed of turning motor vehicles at intersections (if designed correctly).
Improving midblock visibility of pedestrians by bringing them to the edge of parked vehicles.
Encouraging pedestrians to cross at designated locations.
Preventing motorists from parking at corners.
Improving access for emergency responders and large vehicles to narrow streets that might be blocked by on-street parking.
Providing opportunity for high quality ramps for people with disabilities.
Providing location for landscaping and public amenities.
EcoCity Cleveland
3500 Lorain Avenue, Suite 301, Cleveland OH 44113
Cuyahoga Bioregion
(216) 961-5020
www.ecocitycleveland.org
Copyright 2002-2003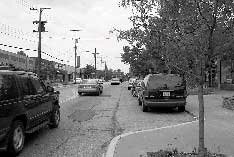 Bulbouts help moderate traffic along Lee Road in Cleveland Heights.
Tools
Bulbout or curb extension
Chicanes
Choker or neckdown
Diverter
Median
Landscaping treatments
Reducing the number of lanes
Pedestrian refuge island
Speed humps and speed tables
Raised intersection
Roadway narrowing
Mini-circle
Woonerf