Mini-circle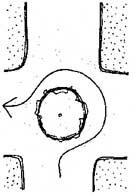 Mini-circles are raised circular islands constructed in the center of residential street intersections to reduce vehicle speeds. They force motorists to maneuver around them and have been found to reduce motor vehicle crashes by 90-93 percent. Drivers making left turns are directed to maneuver in a counter-clockwise direction, exiting the traffic circle by turning right onto the desired street. Signs are often installed within the circle to direct motorists to proceed to the right of the circle before passing through or making a left turn. They are commonly constructed with landscaping (bushes, flowers, or grass) at locations where the neighborhood has agreed to maintain the plants. Stop signs are removed. Mini-circles often improve emergency response times up to 30 percent when four-way stop controls are removed. Use yield control on all four approaches.
Estimate cost: $8,000-$15,000. Asphalt mini-circles are installed for as little as $6,000. Most residents prefer the quality and durability of concrete.
Used for
Managing traffic at an intersection where volumes do not warrant a signal.

Reducing crashes at intersections of two local streets.

Reducing vehicle speeding at the intersection.

Treating a series of intersections along a local street as part of a neighborhood traffic improvement program.

EcoCity Cleveland
3500 Lorain Avenue, Suite 301, Cleveland OH 44113
Cuyahoga Bioregion
(216) 961-5020
www.ecocitycleveland.org
Copyright 2002-2003
Tools
Bulbout or curb extension
Chicanes
Choker or neckdown
Diverter
Median
Landscaping treatments
Reducing the number of lanes
Pedestrian refuge island
Speed humps and speed tables
Raised intersection
Roadway narrowing
Mini-circle
Woonerf