Diverter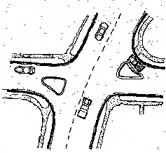 A diverter consists of an island or curbed closure which prevents certain through and/or turning movements at intersections of residential streets.
A diagonal diverter breaks up cut through movements and forces right or left turns in certain directions. A star diverter consists of a star-shaped island placed at the intersection which forces right turns from each approach. A truncated diagonal diverter is a diverter with one end open to allow additional turning movements. Other types of island diverters can be placed on one or more approach legs to prevent through and left turn movements and force vehicles to turn right.
As with other traffic calming measures, diagonal diverters must be used in conjunction with other traffic calming devices within the neighborhood street network. Any of these diverters should be designed to allow pedestrian, bicycle and emergency access.
Estimated cost: $10,000-$20,000 per treatment.
Used for
Traffic volume control.
Discouraging commuter or other inappropriate traffic from entering or cutting through a neighborhood.
Creating part of a bicycle boulevard system.
Creating a small pocket park.

EcoCity Cleveland
3500 Lorain Avenue, Suite 301, Cleveland OH 44113
Cuyahoga Bioregion
(216) 961-5020
www.ecocitycleveland.org
Copyright 2002-2003