Citizen groups offer wish list, layout future land use of Zone Rec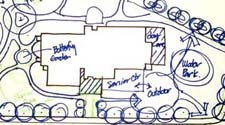 On June 11, 2003, 50 people attended a follow-up Zone Rec Green Space planning meeting, including representatives from Detroit Shoreway neighborhood and surrounding neighborhoods; EcoCity Cleveland; DSCDO; Councilman Matt Zone, and students from CSU. The objective of this follow-up meeting was to turn people's ideas from the first meeting into visual form, taking into account site flow and layout. The product was a set of six site maps generated by small groups.

The meeting started out with a short summary of the first meeting's results. Then the participants split up into groups according to the following elements of design: Water, gathering spaces, paths, recreation, streetscapes, and natural areas.
Everyone went outside with their groups and surveyed the site, paying special attention to their design feature and writing down all their recommendations for specific site placements. Upon return, a representative from each feature group created new teams to design the maps.
Each design team had a base map drawn in pencil, giving them the opportunity to manipulate the map in any way they desired. After the teams finished, they presented their maps to the whole group. Recommendations and a map were also created by the kids at the meeting.
A class from Cleveland State University also distributed a short survey on neighborhood perception as people were walking in.
These maps will be used in making the final site plan for the Zone Rec greenspace redevelopment. More meetings will be planned to keep citizens active in the evolving design process of our community space.

EcoCity Cleveland
3500 Lorain Avenue, Suite 301, Cleveland OH 44113
Cuyahoga Bioregion
(216) 961-5020
www.ecocitycleveland.org
Copyright 2002-2003
Read list of ideas by subject
Read summary of ideas from design teams