The promise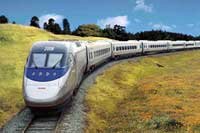 of rail
As highways and airports grow more congested, passenger rail is looking less like a relic of the past and more like an economically and environmentally preferred alternative. The Midwest, especially, is the perfect place for a high-speed rail network, since major cities are spaced ideally to make rail a competitive transportation option.
This section of our site provides information on current planning for rail including commuter rail in Greater Cleveland, passenger rail along the Cleveland-Columbus-Cincinnati corridor, and a Midwest rail connecting Cleveland to Chicago and other cities.
We also offer ideas for how you can support the development of better rail service. Many other nations have built transportation systems around fast, convenient passenger rail. We can, too!
EcoCity Cleveland
3500 Lorain Avenue, Suite 301, Cleveland OH 44113
Cuyahoga Bioregion
(216) 961-5020
www.ecocitycleveland.org
Copyright 2002-2005
Cleveland as a 21st century rail hub
The 3-C Corridor
Ohioans want rail, poll says
Elyria's train depot
A rail network for the Midwest
RTA rail updates
Map of local rail opportunities
Planning for commuter rail and land use
Commuter rail questions
Rail resources
All Aboard Ohio's proposal for
high speed rail in Ohio
Concept for a West Shore trolley
How Portland (by)passed on a highway with trains and transit-oriented development
Time for trains
Trains provide more mobility and travel choices
Trains are energy efficientIntercity (Amtrak) trains are far more efficient than airlines (2441 BTUs per passenger/mile vs. 3999 for airlines in 1998, according to Oak Ridge National Laboratory.
Increased use of trains reduces America's dependence on foreign oil.
Trains are safe, especially in bad weather
Trains contribute to development that is more compact and less wastefull than auto-oriented development.
Trains pollute less than other modes of transportation