Reviving rail in the Midwest
Is the Midwest Regional Rail Initiative (MRRI) pulling into the station?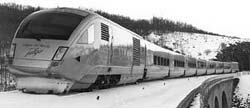 By Ken Prendergast
Many plans have come and gone over the years for improving passenger rail service in the Midwest. But none have advanced past the STP stage - Study, Talk, Plan. That is, until now.
The latest plan is the Midwest Regional Rail Initiative (MRRI), which proposes a 12-route network of fast passenger rail services spider-webbing outward from Chicago across nine states. Most routes would feature short, nimble, fossil fuel-powered trains on existing rights of way, traveling at speeds of up to 110 mph.
Over the next 10 years, tracks would have to be upgraded, stations expanded or built new, signal systems modernized, as well as road-rail crossings improvedsuch as by building new underpasses, adding "full-closure" gates or closing surplus crossings. The price tag for developing all 12 routes is $4.8 billion, which would be funded by a mix of federal, state, local and Amtrak dollars.
In the past, some high-speed rail proposals were to cost as much for a single routesuch as previous plans for the Cleveland-Columbus-Dayton-Cincinnati (3-C) Corridor. Those were electrically powered "bullet trains," which required all-new railways before a single wheel could turn. Even some rail advocacy organizations, while supportive of high-speed rail, had many concerns about those earlier plans. On the other hand, the MRRI project seeks a "building block" approach to upgrade existing rail services and increase train velocities, rather than employ the "big bang" approach attempted before. That is why a broad base of support is lining up behind the MRRI project.
Already, a number of states and Amtrak are making the MRRI plan come to life by pumping money into track and station improvements. Amtrak has put $25 million into Chicago-area track improvements, Illinois plans to invest $140 million, Michigan has already put up $25 million, and Wisconsin plans to invest $60 million.
While Ohio has committed no funding thus far, two independent advocacy efforts have been initiatedthe 3-C Corridor Campaign and the Cleveland-Toledo-Chicago Corridor Campaign. And that's just the start.
New trains arriving
Last September, Amtrak requested bids from manufacturers for 13 tilting, high-speed trains for use on Midwest routes. Eventually, Amtrak will require another 60 to 70 trains, company officials said. The specifications for these trains offers an exciting insight to future travel in the Midwest's busiest transportation corridors.
The trainsets, capable of 125-mph, will be powered by diesel-electric or liquified natural gas engines. As "tilting trains," they would be able to round existing curves at higher speeds by automatically tilting the entire train to counteract the effects of centrifugal forces. Each train will be able to seat 300-400 passengers in two classes, such as economy and business. In addition, there will be a cafe car, as well as two cars to carry express packages. Amtrak wants to introduce the new trains in 2003 on three routes from Chicago to Detroit, St. Louis, and Madison via Milwaukee.
Challenges and opportunities
Two of the MRRI routes from Chicago would serve Ohioto Toledo and Cleveland; and to Cincinnati. A third routethe 3-C Corridoris being added to the network by the Ohio Rail Development Commission. It, like the other routes, will be developed incrementally, as funding becomes available. The addition of multiple-daily passenger trains operating at 110 mph seems like an engineering and operational challenge. In reality, those are the least of the challenges facing the MRRI. While freight train traffic is heavy on many remaining rail lines across Ohio, most of the MRRI routes would use rail lines that once had one or two more tracks than they have now. Laying a new, passenger-only track along these lines typically costs about $1 million per mile (including trackside signals, rebuilt bridges and other accessories).
This is a veritable bargain compared to adding lanes in highway medians or building more airport runways. The 10-year widening and reconstruction of I-71 between Cleveland and Columbus will cost more than $500 million while airport expansions costing in excess of $1 billion each are planned at Chicago, Cleveland and Dayton.
The cost differential between rail projects and their road/air competitors is becoming more noticeable to transportation planners and elected officials, as the lowest-cost highway and airport solutions are being exhausted. Highway medians and existing airport properties are being filled in, meaning that future expansions will require property to be acquired, buildings to be demolished and natural lands to be leveled. Developing advanced passenger rail services involves none of these challenges.
The real challenge in Ohio is twofoldthere is no ongoing, taxpayer-financed program to pay for advanced passenger services; and there is enough skepticism about the desirability or need for passenger rail among elected officials to prevent them from legislating an ongoing source of funding.
Past rail proposals offered either too little or too much for skeptical rail officials to sink their teeth into. A recent, $50 million plan for adding service between Cleveland and Columbus, for example, offered only two daily round trips, a 45-mph average speed, omitted Dayton and Cincinnati, and would carry only 82,000 people a year. At the other end of the scale, a sales tax was proposed during the recession of the early 1980s to build all-new bullet trains for more than $11 billion. Both plans failed to win support.
In contrast, the MRRI takes a middle-ground approach. While 110 mph is the goal, the plan would begin with modest steps, such as implementing train service with one or two daily round trips using mail and package express shipments to provide a market-driven alternative to state-sponsored operating subsidies. This approach is already occurring on the Cleveland-Chicago corridor, where three trains in each direction are now available (with a fourth train due in 2001), but top speeds are still restricted to less than 80 mph.
This is where the MRRI's strength lies. If a basic level of passenger rail service fails to meet ridership expectations, then no further development is warranted. But if it is warranted, then each route can be improved, section by section, targeting the slowest parts first. Over a period of a decade or so, as more sections are upgraded and ridership grows, more trains would be added.
Connections to Ohio
At full build-out, advanced passenger rail services as early as 2010 would offer at least eight daily round trips from Cleveland to Toledo and Chicago, and Cleveland to Columbus, Dayton and Cincinnati, plus a number of intermediate cities like Sandusky, Elyria, Galion-Mansfield and a suburban station in Brook Park, serving Cleveland Hopkins International Airport.
Express trains from Cleveland would make the run to Cincinnati in 3.5 hours, and to Chicago in four hours. Local trains would serve more stations, therefore taking about a half-hour longer to make these runs. Considering that the Federal Aviation Administration says the average time airline passengers spend in airports is now up to 70 minutes per flight, the train becomes increasingly competitive on those 100- to 400-mile trips. This is especially true since trains not only serve the central business districts of cities, but enroute suburbs as well.
Why rail?
Not only would trains be faster than cars and almost as fast as air travel, but rail fares would be about two-thirds the cost of driving, or about half as much as flying. Amtrak also provides some air-rail fare plans, suggesting the possibility that trains can fill the role of connecting flights in this country, just as they do in Europe.
More than one third of all flights at most major airports like Cleveland Hopkins are to cities less than 400 miles awaya market where rail can be very competitive. The FAA predicts that domestic air travel will rise from 650 million trips in 2000, to 1 billion by 2010, a statistic that should keep elected officials awake at night, as airport congestion increases and airport expansions reach their practical limits.
Last, but certainly not least, building advanced passenger rail services means advancing the cause of our urban cores. Rail services will go where the rail lines goto the hearts of cities, both big and small. In Elyria, on the Cleveland-Chicago rail corridor, the Lorain County Commissioners recently purchased the historic New York Central depot so it could be renovated for use as a transportation center. It would not only serve passenger rail, but Lorain County Transit buses, Greyhound buses, taxis, bicycles and pedestrians. The 75-year-old depot is located in the heart of Elyria, and figures prominently into the city's plans for rejuvenating its downtown core with shops, offices and housing in a pedestrian-oriented setting.
In downtown Cleveland, trains to and from Chicago, Cincinnati, plus Pittsburgh and the East Coast, would focus on the city's lakefront, at a place to be called the North Coast Transportation Center. The seeds for this multi-modal transportation center already existAmtrak's Lakefront Station today hosts daily trains, Greyhound buses, taxis and is an on-request stop for the Regional Transit Authority's light-rail Waterfront Line.
Plans for the North Coast Transportation Center have been proposed by the RTA as part of an expanded convention center. But the current station is inadequate now for a major city like Cleveland, particularly as Amtrak and Greyhound services continue to increase here. If commuter rail services happen to any degree, then this only underscores the need for an even larger investment to expand and improve this transportation facility.
Funding rail
How will funding happen? Probably in bits and pieces. The key, however, is your state and federal legislators. At the end of January (2001), the High Speed Rail Reinvestment Act (S. 250) was introduced in the U.S. Senate with 51 Senators cosponsoring the bill, including Senate Majority Leader Trent Lott, Senate Minority Leader Thomas Daschle and Ohio Senator Mike DeWine.
The measure allows Amtrak to raise $12 billion in capital funding for high-speed rail projects nationwide. The bill has strong bipartisan support from lawmakers and is considered a top legislative priority of the U.S. Conference of Mayors, the National Governors Association, and many other business, labor and environmental organizations.
[Editor's note: The High-Speed Rail Reinvestment Act was defeated in Congress last year. However, the bill will be presented to Congress again in 2002, and most likely beyond, currently with 67 Senate and 190 House sponsors.
According to an article in the Federal Reserve Bank of Minnesota journal Woodrow, the Twin Cities-to-Chicago corridor would account for one-third of the system's ridership, about 3.2 million passengers annually, so it is a key player in this corridor.
Minnesota has completed planning studies up to this point and is asking for $10 million in state aid to pay for engineering studies for the 130-mile segment of the route located within state borders. The state would use existing passenger stations in Red Wing and Winona and is looking into redeveloping the St. Paul Union Depot. Minnesota economic development officials see high-speed rail as a boon for mid- to small cities such as La Crosse which already spent almost $2 million to rehabilitate the city's formerly dilapidated train depot.]
Senators and Congressional representatives from other states haven't been waiting at the station platform. They've been working hard to secure federal funding, earmarked for speeding up passenger rail services in their states, such as in Nevada, Oklahoma, North Carolina and others which have far less population density than Ohio does. Some states are taking the initiative themselves. Vermont, Virginia, New York, Missouri, Pennsylvania, Michigan and many more states are committing hundreds of millions of dollars to their own rail programs and leveraging federal funds where they can. Ohio can and should follow suit.
Ohio is the eighth-most densely populated state in the nation. Yet, among the 15th-most populous states in the union, Ohio is the only one not to have an active, ongoing passenger rail program. That has to change if we are to compete for jobs with those states that are offering a diversified transportation system.
That system includes fast passenger rail services, providing an environmentally benign, stress-free, low-cost and productive alternative for Ohioans who no longer want to be handcuffed to the steering wheels of their cars.
Ken Prendergast is vice president of All Aboard Ohio and a longtime rail transportation advocate. This article originally appeared in the March/April 2001 EcoCity Cleveland Journal.
Getting involved
For more information about supporting the 3-C Corridor Campaign and the Cleveland-Toledo-Chicago Corridor Campaign, call 216-529-7677 or the hotline of the Ohio Association of Railroad Passengers, 614-470-0334.
EcoCity Cleveland
3500 Lorain Avenue, Suite 301, Cleveland OH 44113
Cuyahoga Bioregion
(216) 961-5020
www.ecocitycleveland.org
Copyright 2002-2005