Ohio rail corridor: the 3-Cs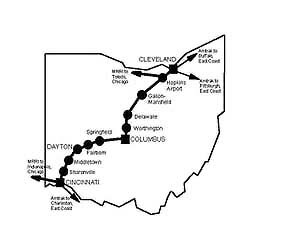 3-C Corridor
A number of businesses, economic development groups, environmental organizations and public officials have announced campaigns to promote fast, modern passenger rail services along two routes in Ohiothe Cleveland-Columbus-Cincinnati (3-C) Corridor and the Cleveland-Toledo-Chicago (CTC) Corridor.

The 3-C and CTC Corridors are part of the Midwest Regional Rail Initiative, a cooperative effort between nine state departments of transportation, the Federal Railroad Administration (FRA) and Amtrak. The FRA recently designated the 3-C and CTC Corridors as eligible for federal high-speed rail planning and construction funds. Plans developed by the MRRI and the Ohio Railroad Development Commission envision eight daily round trips on both corridors, offering endpoint-to-endpoint travel times of less than four hours.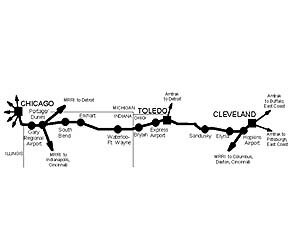 The CTC Corridor

This level of service will give weary travelers convenient alternatives to the region's growing traffic congestion on the highways and in the airways. For time-conscious travelers, modern trains offer cafes, meeting rooms, fax machines, telephones and other amenities that convert travel time into productive time.

Advanced rail service will also pull redevelopment dollars into older central cities (where most rail stations are, or will be located), creating a counter force to urban sprawl. And there are many direct environmental benefits. For example, a diesel-powered high-speed train, with an average passenger load, is 177 percent more efficient (in terms of energy use and pollution emissions) than a commercial jetliner with an average load, and 131 percent more efficient than the average car on the road today.
Highways at the limit
Northeast Ohio's highways are at or quickly nearing their limit. Traffic volumes in the I-71 corridor have grown at a rate of over 20 percent over the past five years and are projected to grow at a rate of 50 percent in the next 20 years, according to an Ohio Department of Transportation report on the I-71 pavement and reconstruction program (1998).
ODOT is approaching its ultimate build-out of the I-71 Corridor with respect to the interstate. Additional right of way would likely be required for additional pavement beyond the third lane in the rural sections of I-71. The need for additional right of way may make more pavement on I-71 cost prohibitive.
Capital costs to upgrade tracks and signals, separate road and rail crossings, build transportation centers and acquire train equipment for the 3-C are estimated to be between $611 million and $720 million, according to The Ohio Association of Railroad Passengers. The lower dollar figure assumes a single-track operation with passing sidings; the higher figure assumes an all-double-track operation
Nearly 60 million people travel in the 3-C Corridor each year (including metro-area commuters), with travel increasing at about 4 percent each year. About 98 percent of the traffic is being handled by I-71. Trains would carry up to 1.23 million passengers annually by 2010 and 1.8 million by 2040. That could spare the Ohio Department of Transportation from having to build a very costly fourth lane each way along some rural stretches of Interstate 71.
According to the Mid-Ohio Regional Planning Commission's 1999 Annual Report: "It will cost approximately $2.54 billion in the year 2020 to expand the region's highway system to bring congestion levels back to what they were in 1995." Their suggested solutions? Make more transportation alternatives available and encourage less wasteful land use, the report said.
EcoCity Cleveland
3500 Lorain Avenue, Suite 301, Cleveland OH 44113
Cuyahoga Bioregion
(216) 961-5020
www.ecocitycleveland.org
Copyright 2002-2003