Greater Cleveland RTA
rail planning updates
During the last couple of years, The Greater Cleveland Regional Transit Authority (RTA) completed studies on its Red, Green and Blue Rapid Transit lines as well as commuter rail, offering a partial vision of where rail might take us. However, RTA's budgetary shortfalls and (aside from a few cases) a lack of interest on the part of communities and private developers delayed new local rail projects. In addition, just how many projects RTA is prepared to seek federal transportation funds for after its high-priority $300 million Euclid Corridor Transportation Project is unknown. The following is an update on RTA Rapid transit and commuter rail studies from RTA and EcoCity Cleveland.
Blue Line Project
About a year ago, RTA's Board of Trustees discussed the results of the Blue Line Corridor Major Investment Study, which examined transit options for Cleveland's southeast suburbs. These included a $90 million, 3-mile long Blue Line light rail extension to the Harvard Road Interchange of Interstate 271.
The main reason for considering this rail extension is the proposed Chagrin Highlands development of 600 acres of land owned by Cleveland and six southeast suburban communities, and the need to get Cleveland residents to the new jobs that will occur there. Based on the build-out of current plans over the next 25 years, the study projects a 50 percent increase in study area jobs (24,000 new jobs), where major employers like National City Bank, Office Max, and MBNA already have offices.
With transit-supportive development, park & ride lots, and feeder buses, the rail extension is projected to attract 4,000 new transit riders. This is about 9 percent higher than projected ridership than the "no-build" option.
RTA met recently with project stakeholders. Because market forces have made study area development slow and uncertain, RTA will delay additional study of the rail extension. Richard E. Jacobs Group, developer of the Chagrin Highlands, has not expressed an interest in designing the site using transit-orientation development principles (high-density residential, commercial and employment activities that create a place with a high degree of pedestrian activity and a focal point for transit trips within walking distance of light rail or high frequency bus transit).
Jacobs agreed to preserve a transit right-of-way as internal roadways are designed for the Chagrin Highlands development. However, the Blue line extension to the Chagrin Highlands will remain on the shelf unless Jacobs requests that RTA build out the line and shares the costs, or if the city insists Jacobs incorporate TOD as part of the development.
More likely, RTA will adjust its bus route in order to serve the Chagrin Highlands, just as it did in modifying an existing route to better serve Cuyahoga Community College Eastern Campus as a result of the Blue line study.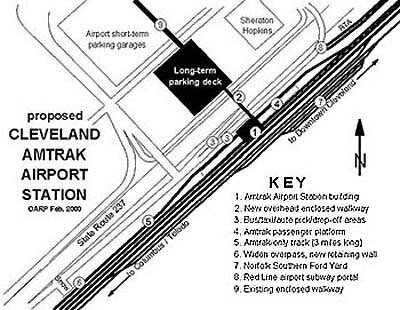 Red Line Project
In 1968, Cleveland became the first city in the United States to link its Downtown Central Business District to a major airport with a direct rail connection. RTA is proud of that accomplishment and is studying ways to strengthen this strategic connection within our service region.
The Red Line Project, now called the Southwest Corridor Project, started by looking at extending RTAs Red Line west through Hopkins International Airport to serve the nearby I-X Center convention complex. Traveling further west, it would serve the cities of Brookpark and Berea and end in the vicinity of neighboring Lorain County, which is growing at a tremendous rate.
Earlier in the study process, it became clear that many residents of the City of Berea did not favor a rail extension that stopped in their city. The residents did not want the noise, parking issues, and underpasses a rail extension would create within the city. RTA listened to the residents and began re-assessing the project.
It was then discovered that the real transportation issue was the connection of the Red Line to the new development around the airport. The airport campus itself had created so much development and related traffic that a more unique transportation solution was required.
The Southwest Corridor Project is now analyzing a smaller area in the Cleveland Hopkins airport corridor, and looking at connecting the Red Line or another mode such as people mover or light rail at the Airport to the car rental campus, I-X Center, NASA, and office parks surrounding the airport. The sale of the I-X Center to the City of Cleveland last year for the expansion of Hopkins runway will certainly complicate matters for Red Line expansion at the airport.
With area development expected to double in the next 25 years, though, the traffic issues facing this corridor will only escalate. The study is looking to create a surface transportation center that blends the heavy rail Red Line, with light rail or people mover, the local bus network, and future intercity and commuter rail. Continental Airlines, Clevelands major air carrier, is very interested in new linkages with commuter rail and Amtrak for weather emergencies.
RTA is working with the City of Cleveland, the State of Ohio, and other passenger rail interests to create an intermodal airport hub similar to Newark or Baltimore to better serve the transportation needs of our service region.

Waterfront Line Project
The study of a possible extension of RTA's Waterfront Blue/Green light rail line from its current terminus near North Coast Harbor through downtown Cleveland has been completed for several years. However, the project was put on hold while the City of Cleveland considered locations for a new convention center.
This extension would complete the loop initiated by the Waterfront Line segment built in 1996 and help establish a more effective downtown transit distribution system. The initial alignment options would link the Euclid Corridor Transportation Project (ECTP), a BRT project, with the Flats, a new convention center, North Coast Harbor, Playhouse Square, Cleveland State University, and Cuyahoga Community College.
A few key issues must be resolved first. RTA would have to convince Cleveland officials to fund a major infrastructure project to establish a north-south rail connection. In addition, The City of Cleveland recently launched an 18-month major planning effort to redesign its entire downtown lakefront, including downgrading the Shoreway Expressway to a boulevard. Nearly a dozen neighborhoods and over 1,000 lakefront acres will be affected, and various Waterfront Line extension options are now being considered.

New RTA service would depend on the level of development along the redesigned lakefront. If Cleveland committed to focusing major new development (housing, retail, offices, etc.) along the realigned Shoreway, then the resulting density might support a higher level of transit service, such as Bus Rapid Transit or even light rail, according to RTA officials.
Commuter Rail The Neorail Project
The final report is still pending for RTA's MPO-lead, "Neorail" 9-county commuter rail feasibility study. The study did find that a "starter network" would be feasible if funding could be secured.
The top two performing lines were the Lorain West Line and the Aurora Southeast Line. The study suggested these two lines be combined into a single 60-mile line, and implemented first. At $300 million in capital cost, the Lorain-Cleveland-Aurora Line would attract about 7,000 average weekday boardings.
Mid-term recommended projects include the Canton-Akron South Line and the Painesville-Mentor East Line. At an added $500 million in capital cost, these two lines would also attract 7,000 daily boardings.
Long-term projects would include the Medina and Elyria Southwest Lines, costing an added $800 million & attracting 6,000 boardings. Thus, a complete Northeast Ohio commuter rail network serving 9 counties would cost over $1.5 billion to build (year 2000 $s) and would attract about 20,000 daily boardings in year 2025.

These costs also include significant infrastructure improvements needed to safely accommodate the proposed increased traffic on the host CSX and Norfolk Southern railroads.
Once the Neorail study final report has been accepted by the MPO sometime later this year, the region will decide if and when to pursue further study. RTA will probably not pursue federal funding for commuter rail at this time. Other NOACA region entities, however, may do so in order to study the Lorain and Solon-Aurora corridorsthe two top most cost-effective corridors identified in the NOACA study.
EcoCity Cleveland
3500 Lorain Avenue, Suite 301, Cleveland OH 44113
Cuyahoga Bioregion
(216) 961-5020
www.ecocitycleveland.org
Copyright 2002-2003