The Cleveland Hub initiative
As the name suggests, The Cleveland Hub is a regional initiative to establish Cleveland as the hub of a high-speed passenger rail system with connecting spokes to major metropolitan areas within a two to four hour travel time including Toledo, Detroit, Buffalo, Pittsburgh, Toronto, Columbus, and Cincinnati.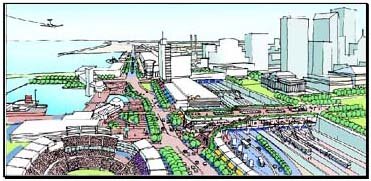 Rendering of a redeveloped Cleveland lakefront by the Cleveland Hub plan
combines a new convention center and train station (center-right).
The first step in the initiative calls for studying the enhancement of the present Amtrak train facilities surrounding Cleveland for line improvements, new switches and barriers. The Ohio Rail Development Commission (ORDC), a state agency overseeing the plan, is contemplating a number of new stops, including a station at Hopkins International Airport, a stop on the Westside of Cleveland, a new station on the lakefront, and on the Eastside in the Collinwood area.
The ORDC is seeking federal funds for the facilities enhancement to match $50 million in state funds earmarked for the program, says ORDC executive director James Seney. Without the federal matching funds, the project will not materialize.
"The State of Ohio doesn't expect nor desire to subsidize a railroad," Seney says. "It has appropriated $50 million to decongest highway traffic by moving first on capital improvements that benefit freight and indirectly passenger (rail)."
Currently, the Cleveland Hub initiative has $360,000with contributions from Michigan, Pennsylvania, Amtrak and Via Railto study specific capacity enhancements. Seney, who was recently elected chairman of the consortium between Ohio, Pennsylvania and Michigan, predicts the first high- speed passenger service might run from Cleveland to Pittsburgh, or Cleveland to Buffalo, because current capacity on those lines would allow for faster development.
The bulk of the funding for high speed rail would be generated by the Young bill currently under consideration by the U.S. House of Representatives and the Hollings bill (S.B. 33) in the U.S. Senate. The former allows states to spend money on rail, while the Hollings bill goes a step further, allowing the federal government to form an agency to operate "some type of intercity passenger rail system," says Seney. "If they do, we're in the game."
The Cleveland Huband the 3-C Hub which connects Cleveland, Columbus and Cincinnatiqualify for federal funding. The High Speed Rail Investment Act, a $12 billion federally oriented bonding effort to pay for a nation-wide system, was defeated last year, however, the act has 67 Senate and 190 House sponsors and is still under debate. Ohio Governor Bob Taft has also pledged his support for the act. Congress will most likely vote on the bills in 2003, Seney says.
Meanwhile, the ORDC would like to launch an environmental study for the Northeast Ohio facilities improvements by the end of 2002. In preparation, Seney has conducted two working meetings in Cleveland with city planning staff, The Growth Assocation and NOACA. Engineers have determined that an additional line west of the city can be achieved at grade, which is a tremendous cost savings, Seney adds.
A few key issues remain, including the location of the proposed convention center. Seney is in the camp that prefers a convention center near the lakefront, between E. 9th Street and Browns Stadium, with a new intercity train station directly underneath. For this plan to work, Amtrak (or another carrier) would have to make "an easy lateral move" from the current Amtrak station.
What makes Cleveland a hub?
Ohio's best opportunity for becoming truly an international gateway is to establish Cleveland as a major hub in a national high-speed rail system, Seney wrote in a recent Plain Dealer OpEd. This would permit Ohio, with its collection of urban and rural economies, to link itself to international air hubs in Chicago, Detroit, Pittsburgh and Toronto. And it would reinforce our efforts to boost Cleveland Hopkins' status as a full-fledged international air hub.
The basic concept of the Cleveland Hub is to make traveling by rail competitive with other modes of transportation by reaching a new hub every two to four hours, says Ken Prendergast of the Ohio Association of Railroad Passengers.
As the ORDC finalizes its study, communities along the Cleveland Hub and Midwest Regional Rail Initiative corridors are purchasing train stations in efforts to rehabilitate them and create attractive multi-modal transit gateways.
Along those lines, Elyria purchased an old train station, Sandusky is rebuilding a late 19th century station as a transit center for the Sundusky Transit System, and Alliance committed to building a new station facility with $1 million in federal funds (total cost $6 million) after officials in the struggling small town agreed the station represents an economic development tool.
A multi-modal link at Hopkins for air to surface transportation including freight and passenger rail and possibly a tram to the rental car facility is high on the Ohio Association of Railroad Passengers' agenda. OARP and The Growth Association are planning on calling on the new director of Hopkins to address a high-speed and commuter rail link at Hopkins.
Linking land-use planning to transit/rail


Ohio lags behind other states such as Oregon and California in building new residential or commercial developments around multiple transit options. That said, a small number of transit-oriented developments (TODs) are being planned, mostly down state.
In Columbus' Italian Village, a development near the Short North (north of downtown) area, new housing is being designed around an eventual light rail line. Similar TOD efforts are underway in Cincinnati through its office of community development
RTA's Brookpark station redevelopment and the Cleveland Ecovillage are "two good examples of what should be happening, especially in Cleveland," says Prendergast. "We have old neighborhoods and factories around (train) stations. They present opportunities to put in transit villages and link them uplike a bunch of little towns."
High-density development and transit go hand-in-hand in reducing resource use and increasing personal health and mobility, says Tim Beatley, architect and author of "Green Urbanism." Beatley addressed about 200 attendees at a Cleveland Green Building Coalition event at Cleveland City Hall recently.
"We need to move toward a European model where land use efforts maintain a tight urban core," Beatley says. "The more compact an urban area, the less resources we consume."
The largest potential TOD project underway in Cleveland is the Euclid Corridor Transportation project. At the center of the Euclid Corridor is a $300 million transit project Bus Rapid Transitwhich the city hopes will attract higher density developments. Proposals to redevelop the corridor's many unused warehouse spaces into artist lofts has been the focus of "building recyclers" such as Renaissance Parters, Cleveland City Council members like Joe Cimperman, and non-profit organizations such as Art House, Inc., which is promoting urban arts and culture and capitalizing on the city's live-work ordinance.

"The vision is to make the transit system a way to live," says Prendergast. "So more people can use it to get to shopping, movies, entertainment, work and the airport all the time."
EcoCity Cleveland
3500 Lorain Avenue, Suite 301, Cleveland OH 44113
Cuyahoga Bioregion
(216) 961-5020
www.ecocitycleveland.org
Copyright 2002-2003