The Circle-Heights Bike Network:
Creating a bicycle-friendly district
EcoCity Cleveland has finished its Circle-Heights Bike map, a citizens' planning concept to connect great destinations by bicycle in University Circle and the surrounding Heights. This page explains the concept. Follow the links at right to get your copy of this very cool map and to learn more about redefining the Circle-Heights district as a bike-friendly place.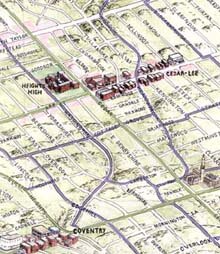 There is a special district on the east side of Cleveland. This
district starts in the University Circle neighborhood and extends up the Portage Escarpment (Cedar Hill, Edgehill, Fairhill) to the surrounding Heights. It includes Shaker Square and the Chagrin-Lee area to the south and extends to Warrensville Center Road to the east. The district is divided among four citiesCleveland, Cleveland Heights, Shaker Heights, and University Heightsbut it is united by similar history, culture, and community design. It forms a cohesive territory.
The "Circle-Heights" district covers a compact, four-by-four mile area. It was largely built during the streetcar era and features a fine-grain mix of residential neighborhoods and commercial districts. It has public places in which people actually like to walk around. And, unlike new suburban areas where destinations are so far apart that people have to drive everywhere, activity centers in the Heights district are spaced close together. Thus, the district is ideally laid out for alternative transportationbiking, walking, and transit.
It's time for the Circle-Heights district to take better advantage of this design attribute. With surprisingly little work, a comprehensive network of bike facilities can be created to knit the district together in a new way. This will create a real competitive advantage. The Circle-Heights district can become known as the place where families can get around in healthy ways and enjoy great streets and public spaces.

EcoCity Cleveland
3500 Lorain Avenue, Suite 301, Cleveland OH 44113
Cuyahoga Bioregion
(216) 961-5020
www.ecocitycleveland.org
Copyright 2002-2003
Get a free copy of the Circle-Heights map!
Our process for creating Circle-Heights
How you can help
Why now?
Bicycling: The healthy alternative
Kinds of routes
Needed improvements and missing links
Climbing the hill
Problem intersections
Friends of Circle-Heights Bike Network
a citizen-led advocacy group
Read citizen comments on Circle-Heights
The goal
Create a network of bike lanes, traffic-calmed streets, designated bike routes, and other facilities that will link major activity centers with safe routes for bicycling.
Places to link:
University Circle

Little Italy

Cedar-Fairmount

Cedar-Lee

Coventry

Cain Park

Lee-Chagrin

Shaker Square

Shaker Lakes

Schools and recreation centers

Severance Town Center

Cedar Center