Open space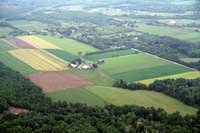 now or never
In the next decade, much of Northeast Ohio will have a last chance to preserve significant parcels of land. The opportunities will be greatand fleeting. Park districts, land trusts and other conservation organizations need to lead the public toward a new, regional vision of open space. In terms of leveraging benefits, this could be one of the smartest investments the region could make.
Somewhere out therebeyond the woods and fields and the cattail marshis a bold, new vision for open space in Northeast Ohio.
The vision is still hazy and incomplete, but it is definitely emerging. More and more people are talking about it people in park districts, land trusts, river protection groups, farmland preservation groups, planning agencies, and civic organizations.
Theyre asking, Whats the plan to preserve the best undeveloped lands remaining in our region? How can we save our natural heritage and provide recreational opportunities for the next generation? How can we use access to nature as a lure for high-tech workers? And how can we do this on a large, regional scale that transcends the artificial political boundaries of cities, townships, and counties?
There is a sense of urgency in these questions. Increasingly, people are realizing that the window of opportunity for significant open space preservation is closing rapidly. The regions central county, Cuyahoga County, is almost completely developed. And land is going fast in the surrounding ring of counties. As development sprawls outward, we may soon have to start looking for open space way out in the next ringErie County, Wayne County, Ashtabula County.
To make a difference, we need to do much more than we are doing now - and we need to act fast. We need a crash program of land preservation at the regional scale. It would be one of the best investments the region could make.
Building on the past
At EcoCity Cleveland, our interest in this stems in part from the work we did two years ago on the Citizens Bioregional Plan for Northeast Ohio. We argued that cities should exist in balance with their surrounding countryside and that it was time to create a next-generation greenbelt around the region.
Our inspiration came from William Stinchcomb, the father of the Cleveland Metroparks. In 1905, Stinchcomb was a young engineer of parks for the City of Cleveland, and he began developing an amazing vision of a ring of parks around the outskirts of the city. He wrote at the time:
I want to suggest the advisability of ultimately establishing an outer system of parks and boulevards...Through the valleys of Rocky River on the west, and Chagrin River on the east, lie some of the finest stretches of natural park lands to be found in the northern part of Ohio. While all this is now entirely outside of the city, it will be but a short time before they will be inside or very near the limits of a "Greater Cleveland" and it seems to me that such fine stretches of natural parkway should be secured for the benefit of the entire public before private enterprise or commercial industry places them beyond reach.
Stinchcombs vision grew into the Cleveland Metroparks Emerald Necklace, one of the most important assets of the region. It happened because he and others had the ability and courage to think a generation ahead of their time and think on a large scale.
In the 1970s, the region took another big leap forward with the establishment of the Cuyahoga Valley National Recreation Area (now National Park), which protected the beautiful swath of river valley between Cleveland and Akron. Without the 33,000-acre park, much of the valley would now be developed. Instead, its become one of the nations most popular parks and the centerpiece of the Ohio & Erie Canal National Heritage Corridor.
A mosaic of protected lands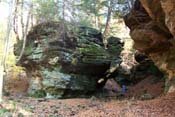 Now, as we progress into the new century, its time to ask how to take the next big leap in open space protection. Our region has grown outward and so must our vision of open space.


The metropark districts in the rural counties around Greater Cleveland have worked hard to acquire land, but their current resources will probably not permit them to create the kind of outer greenbelt the region needs. To do the job, we need to think of more than public parks. We need to envision a mosaic of protected greenspaces around the regionlands that serve different purposes, including nature preserves protecting rare plants and animals, river corridors protecting water quality, parks and trails for public recreation, as well as farmland and other private open spaces that preserve a working countryside.
To create such a mosaic, we will need many strategies for land conservation and many partners working together. Park districts will play an important role, but so will private organizations, such as land trusts.
Open space partners
Here are some of the local organizations that have been talking about regional open space:
Park districts: During the past three years the directors and staff of park districts in eight counties have been meeting to discuss ways to coordinate efforts at a regional scale. With funding from the Cleveland Foundation and George Gund Foundation, they have mapped the remaining open spaces in the region, which provides a good starting point for a discussion of new open space opportunities and how to link existing parks with trails and greenways. The participants include Cleveland Metroparks, Geauga Park District, Lake Metroparks, Lorain County Metro Park District, Medina County Park District, Metro Parks Serving Summit County, Portage Park District, Stark County Park District, Cuyahoga Valley National Park, and the National Park Service Rivers and Trails Program. It is exciting to have representatives from all these park districts in the same room talking about a shared vision that crosses county lines.
Land trusts: In Northeast Ohio, there are at least 18 land trusts, nonprofit organizations that work directly with landowners to preserve land. Sometimes landowners are interested in protecting their land but not in selling to a government agency. A private land trust can help assure that land will remain undeveloped, often by negotiating a conservation easement offering tax advantages to the owner. The largest land trust in the region, the Chagrin River Land Conservancy, protected 777 acres last year in the Chagrin River watershed. Most of the other land trusts are smaller and lack professional staff to execute many complex land deals. With the right technical assistance, however, they could greatly expand conservation activity. In the past several years, there has been an on-going discussion among the land trusts, convened under the umbrella of the Northeast Ohio Land Trust Coalition, about providing services to land trusts on a regional basis. (See pages 10-13 for a summary of our recent survey of land trust capacity in the region.)
Cleveland Museum of Natural History: In addition to being the repository for incredible collections of plant, animal, anthropological, and geological specimens that document the natural history of the region, the museum has protected 3,000 acres of land. These nature preserves shelter some of the rarest ecosystems in Northeast Ohio. The museum continues to add to its holdings, and its staff provides scientific advice to guide preservation efforts throughout the region.
Trust for Public Land: When the public sector or other organizations cant move fast enough to protect land, TPL can intervene to bridge the gap with temporary financing and technical assistance. With a local office in Cleveland, TPL has brokered some significant conservation deals, including the Coliseum property in Richfield and Edison Woods in Erie County. As a large, national organization, TPL also has experience assisting campaigns to raise public funds for open space. The local office has helped levy campaigns in Portage County, Medina County and elsewhere. It would likely be involved in any regional campaign for open space.
The Nature Conservancy: The Nature Conservancy, an international conservation organization, has a Northeast Ohio office in Chardon. Current plans call for it to become more active in the areas of the Grand River watershed, Pymatuning Creek watershed, and the Akron kames region (the wetland-rich area between Burton and Canton where melting glaciers deposited sand and gravel). The office will be developing conservation plans for these areas, promoting land preservation and ecological restoration, and building partnerships with other conservation organizations. TNC brings to the region a great deal of expertise regarding the preservation of high quality ecosystems.
Canal Corridor organizations: The Ohio & Erie Canal National Heritage Corridor, which stretches more than 100 miles from Cleveland to New Philadelphia, is already a great model for regional cooperation. It shows how a greenway corridor and trail system can promote quality of life, environmental restoration, cultural heritage, and economic development. The Canal Corridor is like the north-south spine of the region. In a larger open space vision, numerous greenways will link to this spine from the east and west.
Cuyahoga County: In a developed area like Cuyahoga County, there arent many new opportunities to protect big chunks of open space. But communities can do a lot to improve urban parks, create new greenway corridors and expand access to Lake Erie. The Cuyahoga County Planning Commission will soon be completing a strategic plan for greenspace that aims to put a park, garden or trail within a half mile of every county resident. This urban greenspace plan can be a key component of a larger, regional plan for open space.
Farmland preservation: The preservation of a working, rural landscape should be a part of a regional open space strategy. One model is the Cuyahoga Countryside Conservancy, which is promoting small, sustainable farms in the Cuyahoga Valley National Park. Another group, the Ohio Ecological Food and Farm Association supports organic farms and builds links between farms and urban consumers. And the Center for Farmland Preservation in Northeast Ohio advocates for programs to preserve farmland, such as the use of Clean Ohio bond funds to purchase development rights from farmers. In many counties in the region, farmland preservation task forces are developing local strategies to preserve farming.
Countryside Program: Cookie-cutter subdivisions of new homes on large lots consume a lot of land and pave over natural features. An alternative is conservation development, which clusters homes on smaller lots and permits streams, woods and meadows to be protected. The Countryside Program, a program of the Western Reserve Resource Conservation and Development Council, provides information to townships and municipalities about zoning and planning techniques that encourage more sensitive development.
Home builders and developers: The preservation of open space does not have to be an anti-development message. It should be a conversation about the best places to develop and the best land to protect. After all, we need new housing in the regionthe number of households is increasing (although much more slowly than in many other parts of the country). And older housing stock is wearing out and needs to be replaced. This new housing can be built in two ways. It can be built as single-family homes on large lots scattered haphazardly across the countryside (which is the current trend and is required by current zoning in most communities). Or it can be built as the redevelopment of existing housing, the infill development of vacant land in cities, or by building more compactly around existing cities and towns to conserve land and infrastructure costs. Enlightened home builders understand the latter is preferable and that the market is increasingly turning away from the same-old suburban sprawl. The Home Builders Association of Greater Cleveland has established a Smart Growth Education Foundation to promote development patterns that are less wasteful of land.
State of Ohio: Ohio ranks near the bottom in the amount of public open space per person, but there are small signs that the state is taking a greater interest in open space. The $400 million Clean Ohio bond fund, which passed last November, will provide a modest stream of funding for land preservation and greenways. And the Department of Natural Resources is beginning to plan a statewide system of recreational trails. The state needs to do a lot more, however, to compete with states like New Jersey, which is spending $1 billion to protect half of its remaining open space.
Acting at the regional scale
With all these organizations talking about open space, whats missing? Three things stand out: a regional framework for all of the organizations and activities to plug into, a coordinating organization, and much greater public funding for land protection.
Regional framework: A regional framework is needed because its vital that thinking about open space preservation take place at the regional, multi-county scale. The forces influencing development patterns occur at the regional scalea regional economy, housing market and transportation network. And the resources we want to protect also occur at the regional scalerivers, wildlife corridors, or farming districts. Thus, the priorities for conservation should be set within a regional framework The existence of a regional vision would give all the parties involved a sense of context and common purpose. Every local activity would assume greater significance because it would be contributing to a major transformation of the region.
Coordinating organization: An organization with professional staff is needed to plan for open space at the regional scale, establish conservation priorities, coordinate the activities of many organizations, and provide technical assistance to make all groups more effective. Presently, we have no entity to plan for the region, so we need to think creatively about a new organization or partnership. Other regions in the U.S. have such organizations. For example, Chicago Wilderness is the umbrella group for more than 100 conservation-related organizations in the three-state Chicago metropolitan area. It has created a biodiversity recovery plan for the region and has numerous public education programs promoting land protection and stewardship.
Public funding: Meeting the open space needs of the next generation will require significant public funding. The money needs to be raised now before most conservation opportunities are lost (and to leverage state and federal funds that are becoming available). Our region has the capacity to do this. Every year we spend hundreds of millions of dollars on civic improvements, whether for roads, sports stadiums, museums, or other facilities. Why shouldnt open spacea democratic amenity that every citizen can enjoy every day of the yearget in line to be one of the next big investments?
Making the investment
Open space is a smart investment. It contributes to the competitiveness of a region in many ways:
Recreational benefitsProvides access to nature close to home for hiking, biking, fishing, swimming, sports, horseback riding, and bird watching.
Environmental benefitsProtects water quality, air quality, and the diversity of plants and animals that comprise our natural heritage.
Economic benefitsAttracts business investment and skilled workers to the region, boosts tourism, increases property values, and reduces the need for costly stormwater control.
Community benefitsActs as a catalyst for community revitalization, promotes exercise and healthy lifestyles, and helps create a sense of place.
Across the nation, communities are aggressively investing in open space. According to the Land Trust Alliance, in 1998, voters approved 124 of 148 open space funding referenda (an 84 percent approval rate) for a total of over $8 billion in public funding committed to preserve open and green spaces. In 1999, an off election year in which few referenda were expected, over $1.8 billion in additional public funding for open space protection was approved by American voters in 92 of 102 referenda.
Its time to think big about open space in Northeast Ohio. This is about our future quality of life and our legacy for future generations. We only get one chance, and its slipping away.
EcoCity Cleveland
3500 Lorain Avenue, Suite 301, Cleveland OH 44113
Cuyahoga Bioregion
(216) 961-5020
www.ecocitycleveland.org
Copyright 2002-2003