Protecting urban gardens
The following comes from a recent study by EcoCity Cleveland about how to offer permanent protection to urban gardens in Cleveland. The study was funded by the George Gund Foundation and was written by Adele DiMarco Kious.
Recent discussions in Cleveland's gardening and green space community have focused on ways in which the community urban food gardens can become more permanent parts of Cleveland's neighborhoods.
The approximately 200 community urban food gardens in the Cleveland area are important community assets that need to be protected. With an annual investment of $100,000 of City Block Grant Funding, the gardens bring a 1000% return by producing $1 million worth of produce every year, as well as qualitative social and environmental value.
Most of these gardens exist on City of Cleveland land bank lots and property of the Cleveland Municipal School District. Some of these gardens have been in existence for over 60 years, as they were part of the nationally renowned Cleveland City Schools gardening program of the last century. Some gardens are small with only three or four plots. Others are acres in size and can support numerous families. All of the gardens provide food, beauty, health, community, and positive change. They are signs of collective efficacy in a neighborhood.
These positive impacts, however, also create the conditions that threaten the long-term future of garden sites. Gardens often come into existence when a neighborhood needs beautification, inspiration, and social cohesion. Time and time again, gardens meet these needs. As the neighborhoods improve, the opportunity for development shifts from gardens to houses, and the gardens are at risk of disappearing. In the past five years, Cleveland has lost about a dozen of its gardens to residential development (one garden was built on in the middle of growing season). Although over 180 gardens remain, most are not permanently protected parts of neighborhoods.
The discussion about permanency is not unique to Cleveland. Urban gardeners across the nation woke up to the need to plan for permanent protection in 1999 by the crisis in New York City. In May 1999, at the eleventh hour, the Trust for Public Land and the New York Restoration Project were able to reach agreements with the City of New York to rescue from auction 155 community gardens. The cost: months of anxiety and frustration, a national rally, lawsuits, last-minute negotiations, parks committee resolutions, and $4.2 million. Though the demand for land in New York City is stronger than most other American cities, one factor isn't very different: New York had no overall policy for reviewing gardens for preservation.
Andrew Stone of New York City's Trust for Public Land office has learned from the experience. He states that cities that would like to make community gardens permanent may accomplish the most when they are not in a pressure situation. "When there is not a lot of land-use conflict-in Philadelphia where they are saving sites ahead of time, in St. Louis and Detroit and other cities with vacant land and less pressure-that may be the best time to try for policy."
Discussion among Cleveland's green space, parks and gardening nonprofits, garden leaders, the City of Cleveland, and other local civic organizations has concluded the following:

Community urban food gardens should be part of the City of Clevelands master planning, as well as regional planning. The tenuous status of many gardens currently places many of them at risk and limits the ability of gardeners to make permanent investments.

City departments will initiate steps to reclassify land bank lots with significant gardens on them, thus providing an initial level of protection.

An Urban Food Garden Steering Committee will be formed from members of various local government, park, gardening and green space organizations.

An existing organization should assume responsibility for exploring further steps for acquiring lots, holding title and liability, and fundraising for the operation of garden sites.
EcoCity Cleveland
3500 Lorain Avenue, Suite 301, Cleveland OH 44113
Cuyahoga Bioregion
(216) 961-5020
www.ecocitycleveland.org
Copyright 2002-2003
Complete study on protecting urban gardens in Cleveland (Word Doc, 192KB)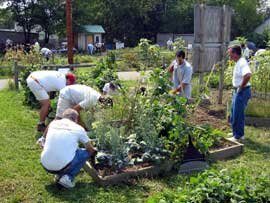 Volunteers from Key Bank help maintain the garden in the Cleveland EcoVillage in the Detroit Shoreway neighborhood.