Local planning for conservation
Ultimately, planning to conserve open space and natural resources should occur at the regional level. This means creating a broad vision for land use that transcends the municipal and county lines that arbitrarily divide the landscape.

But, on a smaller scale, many local communities are making progress in strengthening their planning. They are adopting comprehensive land use plans, changing zoning to allow developments that preserve open space, and protecting sensitive river corridors and other sensitive lands.

The following article summarizes a recent survey of the status of conservation planning and zoning measures in Northeast Ohio. The survey was conducted by the Countryside Program, an initiative that educates local communities about development methods that conserve land. It includes data from telephone interviews of 175 townships and municipalities where growth is occurring.

Communities in the region still have a long way to go with land use planning (Northeast Ohio is probably ahead of other parts of the state but still far behind other parts of the nation). However, recent progress is a sign of increasing interest in growth management and conservation.
Survey overview. The 219 target communities include all 127 townships in the region, plus 59 villages and 33 cities that still contain open land that could be developed. Of these, we were able to reach officials at 100 townships and 75 municipalities.

Overall zoning and planning. Of the 175 communities interviewed, only one village and 12 townships have no zoning or planning measures in place. All of the others have taken some steps to influence land use. Fifty-one townships have comprehensive plans in place or in progress, 40 of them since 1996. Fifty-seven municipalities have comprehensive plans in place or in progress, 41 since 1996.

Conservation development zoning.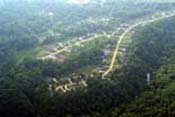 Our standard for residential conservation development requires at least 40 percent of the land be retained in open space. Of the communities we spoke to, 12 townships and 11 municipalities have adopted zoning that meets this standard. In addition, four townships and six municipalities have zoning that does not meet this standard, but has at least a 30 percent open space requirement. An additional 11 townships and three municipalities have residential conservation development zoning codes in progress.

Other conservation provisions. Many communities throughout the region have implemented measures to restrict development's impact on natural, agricultural and historic resources. Of the communities we spoke to, 17 townships and 28 municipalities have some restriction on floodplain development. Ten townships and 11 cities have river and stream buffers, ranging from 20 feet to 1,000 feet wide. Six townships and 10 municipalities restrict development on steep slopes, starting at 10 percent to 25 percent as the minimum slope affected. Other provisions include restrictions on impacts to: woodlands (six municipalities, one township); wetlands (one municipality); erosion/drainage (one township); farmland (two townships); historic resources (two municipalities). In addition, four communities have multi-faceted provisions intended to protect a range of resources, including wetlands, floodplains, woodlands, etc.

Conclusion. In the five years since the Countryside Program's inception, we have seen a definite change in communities' knowledge about, and interest in, planning and zoning measures which can help to conserve resources, while allowing development to occur. Comprehensive planning is the most critical step, as it is necessary to develop a sound, logical framework for zoning that is well-thought out and supported by the community. Once policies and priorities for conservation and development are set in the comprehensive plan, zoning measures can be implemented to help encourage quality development which will ensure the community's long-term economic prosperity, while enhancing the quality of life. The survey results indicate that many Northeast Ohio communities are doing just that - and we will all benefit from their actions in the long run.
For more information, contact Kirby Date, Countryside Program coordinator, at 216-295-0511, or ninmile@en.com.
EcoCity Cleveland
3500 Lorain Avenue, Suite 301, Cleveland OH 44113
Cuyahoga Bioregion
(216) 961-5020
www.ecocitycleveland.org
Copyright 2002-2003