The promise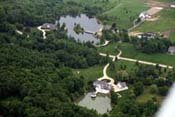 of land trusts

In the past four years, the Chagrin River Land Conservancy (CRLC) protected an average of 594 acres a year. If the nonprofit land trust keeps up that pace, it will quickly become the largest private land steward in the state and will rival public park districts in size. Indeed, it has its sights on protecting another 650 properties totaling 50,000 acres in the Chagrin River watershed and adjoining communities. (For comparison, the Cleveland Metroparks has about 20,000 acres.)
CRLC protects land by working with private landowners to help them meet their conservation objectives. Sometimes the group raises money to buy land outright. Other times it accepts donations of conservation easements by which a landowner agrees to restrict development in return for tax benefits. It even works out complex deals whereby third parties agree to buy a large parcel of land, build a house on a small portion of it, and permanently preserve the rest.
The experience of CRLC demonstrates that there is a market for these creative land protection services. And it also demonstrates that it is possible for a land trust to rapidly expand its capacityboard, staff, technical, and financialto do real estate transactions.
Its tantalizing, therefore, to think about the potential impact on regional land conservation if all the land trusts in Northeast Ohio could ramp up their capacity like CRLC. To study the possibilities, last year CRLC asked EcoCity Cleveland to conduct a comprehensive survey of local land trusts.
Working with a local consulting firm, Chadbourne & Chadbourne, Inc., we interviewed 18 organizations whose missions include land preservation. We mapped their service territories and collected information on their history and current capacity to preserve land (see profiles on pages 12-13). We also assessed what kinds of assistance could make them more effective. In that respect, the survey was intended to complement the efforts of the Northeast Ohio Land Trust Coalition, the loose-knit group that has worked in recent years to promote capacity building and regional collaboration.
Survey findings
In summary, our survey revealed the following:
History: Land trust activity in Northeast Ohio is a recent phenomenon. Although several of the groups surveyed, such as Greater Cleveland Audubon and Holden Arboretum, have long histories, most local land trusts were founded in the past 15 years.
Coverage: Land trust capacity is concentrated in the Chagrin Valley where at least seven organizations have overlapping territories. Capacity is relatively weak in other parts of the region, especially in Lorain County. Capacity is also weak in Cuyahoga County, where neighborhood-based community land trusts are needed. And capacity is weak in most of the regions outer perimeter countiesthe ring from Erie to Wayne to Ashtabulaeven though development pressure is rising in those counties.
Diversity: Local land trusts vary in terms of mission, board involvement, staff capacity, real estate sophistication, and methods for identifying conservation priorities. For example, while a small land trust often responds to opportunities that come by word of mouth, a larger land trust like CRLC has a strategic plan based on computerized maps of parcel information and ecological data.
Needs: All land trusts wish they had more funding. Funding means more staff and the capacity for more deals. Many of the younger land trusts have no full-time staff members and rely on volunteer board members. This limits their ability to do complex transactions, or to do many deals at all.
Threats: The most common threats voiced by land trusts are the rapid pace of land development and the rising price of land. Demographic changes are a factor in this. In the next couple of decades, large amounts of land will be inherited by Baby Boomers or will be sold for development. Thus, many land trusts feel a need to act quickly before the best opportunities are gone.
Local focus: Community-based land trusts are needed to initiate and maintain personal contacts with landowners. The local groups have intimate knowledge of their communities.
Regional cooperation: Most land trusts are willing to belong to a regional organization, but there are questions about how it would be organized. There also is a diversity of opinions about what services a regional coalition should provide. Any regional effort must be careful about respecting the autonomy and turf of local groups, while increasing their effectiveness.
Opportunities for regional impact
While local land trusts have been successful in recent years, they have not reached their full potential. Our survey shows that opportunities exist for a much greater impact at the regional level. Overall, the land trust community needs to increase capacity to:
Take advantage of a generational changeover of land holdings.

Respond to growing development pressures before its too late to have a meaningful impact.

Coordinate land preservation to create strategic benefits at the regional scale (e.g., preservation of biodiversity, creation of connected green space corridors, promotion of compact development patterns).


Achieve economies of scale in executing real estate deals.




In other parts of the country, regional or statewide organizations have been created to assist local land trusts. For example, the New Jersey Conservation Foundation is a service agency with 24 staff people to provide technical assistance and education to local groups. On Cape Cod, land trusts have created the Compact of Cape Cod Conservation Trusts, a service bureau that provides technical support.
Similarly, in Northeast Ohio a regional service program could be a cost-effective way to increase the capacity of land trusts. A program could provide technical assistance for real estate transactions and easements, fundraising assistance for land protection and operations, research and planning services to prioritize land protection, as well as marketing and public education at the regional scale.
The promise
The goal should be to create enough land trust capacity so that no landowner has to sell out for development if he or she does not want to. In the next decade, the residents of large portions of Northeast Ohio will have their last chance to preserve significant parcels of land. The opportunities will be greatand fleeting.
At present, not all land trusts in the region have the capacity to take advantage of all these opportunities. But they could dramatically ramp up their capacity with the right investment in technical assistance. In terms of leveraging benefits, this could one of the smartest investments the region could make.
For more information about the land trust survey, contact at EcoCity Cleveland (216-961-5020) or Rich Cochran at the Chagrin River Land Conservancy (440-729-9621).
EcoCity Cleveland
3500 Lorain Avenue, Suite 301, Cleveland OH 44113
Cuyahoga Bioregion
(216) 961-5020
www.ecocitycleveland.org
Copyright 2002-2003