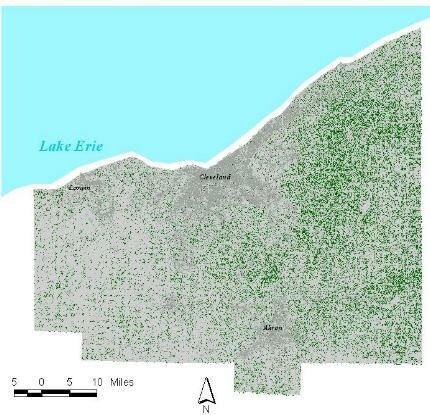 Forests are one of the most valuable natural resources found in our bioregion. They are the sources of our cleanest drinking water and some of our most important fish and wildlife habitats. The forests' trees and other plants clean the air by absorbing carbon, giving off oxygen and filtering out pollutants. Intact woods prevent erosion and the silting of waterways, and they absorb and release rainfall gradually, thus reducing flooding along rivers and streams. And forests are destinations for people in search of recreational opportunities, like camping, hiking, bird watching, and hunting.
Even in cities and towns where forested areas are much smaller, the benefits of preserving trees increase property values and enhance the overall image of a community. Before 1800, Northeast Ohio was a heavily forested region of beech, maple, oak, hemlocks and other trees. With European settlement, forests were cleared to make way for agriculture and to provide fuel wood and timber for construction and furniture making.
Today, few remnants of original old-growth forests exist in Northeast Ohio, but much of the land remains wooded with younger forests. You'll see in the map above that the eastern part of our regionon the edge of the Allegheny Plateau in Geauga, Portage and Summit countiesis more heavily forested than the western parts of the region where more land is used for agricultural production.

Download a detailed PDF file of this map (620 KB).
EcoCity Cleveland
3500 Lorain Avenue, Suite 301, Cleveland OH 44113
Cuyahoga Bioregion
(216) 961-5020
www.ecocitycleveland.org
Copyright 2002-2003