Water under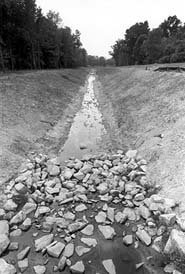 pressure
After three years of study, public officials have released an important plan to protect water quality in Northeast Ohio. The draft plan reflects the best thinking of local planning agencies, health departments, sewer districts, environmental protection agencies and political leaders. The plan is comprehensive and realistic. It is also frightening.
The major conclusion: Regional water quality is expected to decline, reversing the gains of the last 20 years.
That will happen if current trends continue. And the trends are very likely to continue because there are no management structure and policies in place to change them.
New challenges
The plan is called Clean Water 2000: The 208 Water Quality Management Plan for Northeast Ohio. The 208 refers to a section of the Clean Water Act that requires coordination of water quality management in metropolitan areas. The intent is to ensure that public investments in sewers, wastewater treatment plants, and other programs are well planned and effectiveand that conflicts between local jurisdictions are avoided (for example, you dont want two cities extending sewer lines to serve the same area).
The first 208 plan for Northeast Ohio was completed in 1979. It focused primarily on improving sewage treatment to reduce the gross pollution of our streams, rivers and lakes. Hundreds of millions of dollars later, our waterways are much improved. Rivers like the Cuyahoga downstream of Akron are coming back to life.
Now, more than 20 years later, the 208 plan has been updated. And it focuses on a new set of water quality challengeschallenges that involve not how we treat wastewater as much as how we treat land. Simply put, the emerging water quality issue for the new century is urban sprawl.
Here is how the regions water quality experts describe the situation:
&the most widespread threat to water quality in 1999 is occurring in the rapidly developing areas of the region on the periphery of the existing urban areas. This threat comes from a variety of potential sources, including new point source discharges from residential and commercial developments, but most significantly from the combined effects of land disturbances to construct these new developments. This has caused a wholesale transformation of the landscape from rural, sparsely populated, vegetated open spaces to large areas of denser populations with corresponding increases in impervious surfaces (pavements, parking lots, and buildings). This transformation is threatening critical water resources once thought relatively secure from water pollution threats (upland drinking water reservoirs, headwaters areas, and high quality streams once far removed from urbanization). Thus, while the perceived water pollution problems of the 1970s have largely been addressed, there remains a whole new set of water pollution challenges at the turn of the century to be confronted.
Where the growth is
To illustrate where future water quality problems will likely occur, the planners mapped projected population growth in Northeast Ohio (see projected population growth). Then they overlaid the population projections on a map of major watersheds (also projected population growth in local watersheds).
The maps show that much of the future regional population growth will occur in watershed areas that currently feature relatively high water quality. This includes areas like the lower Grand River and the Aurora Branch of the Chagrin River, which are projected to be high growth areas. The middle Cuyahoga River and the upper portion of the lower Cuyahoga are also expected to grow substantially. Both the east and west branches of the Rocky River are projected to experience growth, with particular impacts expected in the vicinity of the City of Medina. The lower reaches of the east branch of the Black River and nearby areas of Lorain County that drain directly to Lake Erie will also be affected, according to the plan.
Typically, the impacts will start on the small headwater streams that flow into the rivers. House by house, the land will be cleared of protective vegetation and replaced with roads and rooftops. The delicate balance of water flow will be upset. Water will surge into the streams during rains depositing sediment, lawn chemicals and other pollutants, eroding the stream banks, washing away aquatic life. The pristine, woodland streams will become turbid drainage ditches. And the water quality impacts will be transmitted downstream to the major river. (See Paving over the landscape.)

Preventive measures
To address such problems in the developing areas of our region, the Clean Water 2000 plan makes a number of recommendations. Some of these are common-sense measures that are either partially implemented already in some communities or should have been implemented years ago:
County health departments should take greater responsibility for siting, permiting, and inspecting home sewage systems. In rural areas without sewer lines, houses and small businesses have small, individual systems to treat wastewater (such as a septic tank to collect solids and a leach field to allow wastewater to percolate into the ground). Presently, the regulation of these systems varies from county to county. Some systems are installed in soils that do not permit proper drainage. Many systems are not maintained and eventually fail to work. Its very important to require people in the country to take responsibility for their wastewater because when failing home systems create a serious pollution problem, the Ohio EPA often will require a public sewer system to be installed. New sewers then open up the area to more intensive development, which then creates even more water quality problems.
Local municipalities and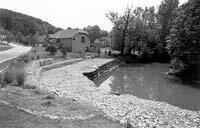 counties should tighten regulations on construction activities that disturb an acre or more of land. This includes effective stormwater management ordinances to ensure that development does not alter runoff patterns and cause flooding or pollution downstream. And it includes programs to prevent soil erosion and control sediment from construction sites. For projects that impact critical water resources, the Ohio EPA also should require controls to mitigate stormwater impacts.
To protect drinking water supplies, communities should minimize the amount of road salt used to clear roads in winter.
Design and maintain roads to minimize the amount of pollutants that wash off during rains.
Promote the development of watershed stewardship programs to involve citizens in restoring local streams and educate the public about the importance of water quality. Many such programs already exist, and the plan recommends that NOACA facilitate the formation of a group for the Rocky River, the one remaining major river in the region without a watershed organization.
Encourage voluntary land conservation programs, such as land trusts that acquire easements from property owners to prevent land from being developed.
Provide better information to local officials on the impacts of development throughout a watershed so theres greater awareness of how development in one community affects neighbors downstream.
Controlling growth
Other recommendations in the plan deal more directly with managing growth and development. They are potentially more controversial and may be harder to implement. They include:
Communities in developing areas should require building setbacks to protect a vegetated buffer zone along stream corridors. This buffer zone should be 75 to 300 feet wide depending on the size of the stream. Protected stream corridors serve a number of functions, including flood control, erosion control, pollutant filtration, and habitat protection. Communities can also save tax dollars and reduce future property damage by preventing encroachment on the stream channel.
Communities should promote conservation design subdivision regulations (as opposed to cookie-cutter, large-lot zoning) to limit the stormwater impacts of new development. This typically involves clustering homes on smaller lots to preserve open space and reduce impervious surfaces. It reduces the costs of development while protecting the environment.
Ohio EPA should allow local officials to give streams special protection under water quality regulations. For example, permits often allow a stream to be polluted up to its theoretical assimilative capacity (based on the assumption that streams can handle a certain amount of pollution without showing signs of degradation). But the plan recommends that local officials be able to request that Ohio EPA set aside up to 20 percent of a streams assimilative capacity. This would give high quality streams an additional regulatory cushion and could reduce the amount of development allowed in a watershed.
Regional planning should be expanded to coordinate water quality planning and transportation planning. Public investments in new infrastructure could encourage growth management and promote development in existing cities and towns rather than in rural areas.
Acting in watersheds
The above recommendations are positive steps for water quality in the region. But most are limited by a fundamental flaw in how we care for our water resources in Ohio.
Increasingly, the key to clean water is reducing sprawl and protecting natural stream corridors. Its a land use issue. But our land use decision-making takes place in cities, towns and counties, not in watersheds.
As the Clean Water 2000 plan says, Watershed approaches are not mandated in the State of Ohio and would seem to be complicated by the State Constitutions allocation of primary land management responsibility to local units of government.
Its not likely that the state will mandate watershed authorities anytime soon. So it seems that our only realistic hope for reversing current trends is for hundreds of units of local government and thousands of local officials to get watershed religion and start cooperating on an unprecedented scale. A daunting prospect!
We do have some encouraging examples of voluntary, cooperative action in the region. For example, the Chagrin River Watershed Partners is helping communities in the Chagrin River watershed to cooperate on development issues. But were still a long way from success. The dominant development trends of the region dont respect water.
Ultimately, we need to transcend the little municipal and county boxes that frustrate planning and effective action to protect streams and their watersheds. We need new techniques of ecological development that integrate human society into the natural world.
We need to cultivate a more profound awareness of the value of water as the basis of our health, our regions biological diversity, our recreational opportunities. We need to appreciate that abundant clean water is one of our greatest competitive advantages over the rest of the country.
Water connects us. It flows through the land, the air, and our bodies. You cant say where it begins and ends. It obeys no boundaries. We all have a stake in it.
EcoCity Cleveland
3500 Lorain Avenue, Suite 301, Cleveland OH 44113
Cuyahoga Bioregion
(216) 961-5020
www.ecocitycleveland.org
Copyright 2002-2003