Highlights of the regions
plan for clean water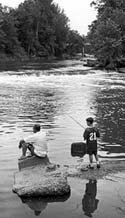 Wastewater management facilities
The plan updates wastewater management facility planning areas in the region and identifies community plans for wastewater treatment. In the plan local officials have presented their community's plans for wastewater treatment. Some have used this opportunity to decide that they want to limit spread of sanitary sewers so as to maintain lower development densities that are commensurate with maintaining rural character. With its adoption by NOACA and certification by Ohio EPA only those sewer plans that are consistent with the Clean Water 2000 plan will be approved.
Nonpoint source controls
The plan recommends local government use of some new tools to control nonpoint source pollution, a growing regional problem. (Nonpoint source pollution is diffuse pollution from the runoff from roads, farm fields and other sources. It is much harder to control than point sources, such as the discharge pipe from a factory). These tools include new model ordinances to help better manage storm water runoff and to control construction site erosion/sediment problems. They also include a riparian buffer ordinance designed to move people out of danger from flooding and stream bank failure, while protecting streams and aquatic life from further degradation. Local officials are also being asked to encourage broader use of low-impact designs for new subdivisions that help to maintain areas of natural vegetation while still accommodating growth.
Home sewage management
A new initiative to improve the operation and maintenance of home sewage disposal systems, another major source of water pollution, was developed with the guidance of the seven-county health departments in Northeast Ohio. The plan identifies enhanced management policies to be implemented by these agencies to better protect the region's water resources and to avoid future problems in unsewered areas without requiring the extension of sanitary sewers into areas where they are not wanted.
Protection of critical water resources
The region possesses numerous water resources that are so special that they are considered critical to the maintenance of local health and community welfare. These water resources include surface and groundwater-drinking supplies, high-quality vegetated riparian corridors, and streams with scenic, wild or recreational value. The plan identifies these critical water resources and recommends the adoption of procedures whereby local officials by themselves, or with the assistance of Ohio EPA when asked, are given a set of options to provide for enhanced protection of these critical water resources. Ohio EPA is requested to modify state Clean Water Act authority to enhance the capacity of local officials to protect critical resource areas. Ohio EPA is also requested to expand the list of project types eligible for low interest loans under the State Revolving Loan Fund for this purpose.
Restoration of urban streams
The plan recommends Ohio EPA approval of an urban streams restoration planning process that will enable local communities to undertake practical efforts to address streams heavily impacted by urban land uses. The plan also provides recommendations for enhancing watershed planning, and better coordination of transportation and water quality infrastructure planning.
EcoCity Cleveland
3500 Lorain Avenue, Suite 301, Cleveland OH 44113
Cuyahoga Bioregion
(216) 961-5020
www.ecocitycleveland.org
Copyright 2002-2003