Zoned for development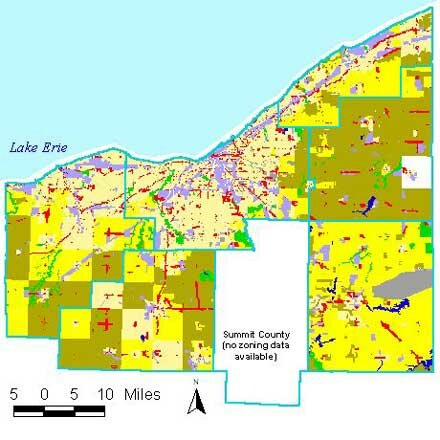 What: Current zoning patterns throughout Northeast Ohio (except Summit County, where a single county-wide map is not available). The map shows that, apart from a few protected open spaces in the seven counties, essentially the entire region is zoned for development, regardless of whether land is highly productive farmland or harbors unique ecosystems.

Why: This pattern of zoning was established by individual cities, villages and townships without much regard to the regional implications. Nevertheless, this is the de facto development plan for the region.
How: The Northeast Ohio Areawide Coordinating Agency (NOACA) compiled the zoning maps of all communities throughout Lake, Geauga, Medina, Lorain and Cuyahoga counties, and the Portage County Regional Planning Commission did the same for Portage County. Though zoning categories and terminology vary widely from place to place, the map to the right generalizes those categories into the seven seen here.

Waiting for houses
People who move out to a new subdivision "in the country" are often surprised and angry when the woods and fields behind their new house becomes yet another subdivision. They don't realize that practically all of the countryside of Northeast Ohio is zoned to allow development.
Much of this zoning was created in an ad hoc manner by individual communities who never thought about whether the region as a whole really needs all that residential land or another industrial park out in the middle of Amish farm country.
It's pretty amazing to calculate what would happen if some of these places fully developed according to their present zoning. In Medina County, for example, all of the vacant land in townships (165,000 acres now used mostly for agriculture) is zoned for development. If the current pace of building continues, all of this land will be completely developed by 2045. That would bring 47,000 new homes and would eliminate farming in the county. The county's population would double, and the number of students in the Buckeye, Black River, Cloverleaf, and Highland school districts would increase 300 percent (projections from a study by the Housing Policy Research Center at Cleveland State University). Such growth would create tremendous pressures for costly new roads, schools, sewer systems and other services. And it's not clear whether residents really want their county to change so drastically.
EcoCity Cleveland
3500 Lorain Avenue, Suite 301, Cleveland OH 44113
Cuyahoga Bioregion
(216) 961-5020
www.ecocitycleveland.org
Copyright 2002-2003
Outmigration
Shifting wealth
Zoned for development
Transportation spending
Lands at risk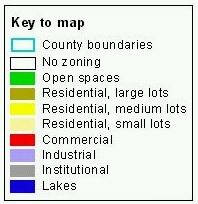 Northeast Ohio Areawide Coordinating Agency (NOACA);
Northern Ohio Data and Information Service (NODIS);
Portage County Regional Planning Commission;
U.S. Census Bureau TIGER files