Shifting wealth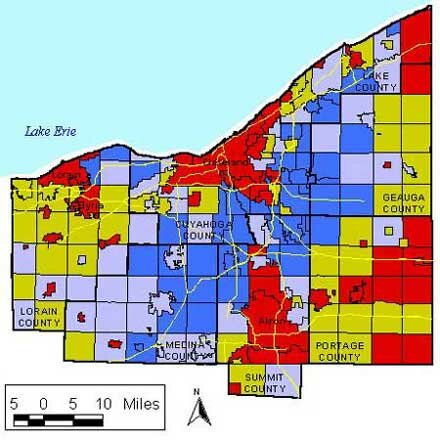 What: Map showing that the outmigration patterns in the region are also patterns of social stratification, as certain exclusive suburbs capture a greater proportion of the region's tax base and wealthy households.

Why: Inequities in tax base make it more difficult for older communities to maintain themselves. As decline spreads, wealthier households move farther out from the urban cores of the region, leaving behind increasing concentrations of poverty. Reversing these trends will require stronger efforts to redevelop older communities.
How: The 226 cities, villages and townships of the seven-county region depend on growing tax bases to finance public services, schools and infrastructure. A study by researchers at Cleveland State University's Housing Policy Research Program mapped the status of tax bases across the region and related change in tax base to real estate development, population movement and public policy.

Divided society
Greater Cleveland is famous for its Emerald Necklace, the wonderful network of parks encircling the area. But another necklace—one with troubling implications—has developed in recent years. This is a necklace of suburbs that is capturing much of the regional growth in tax base and is leaving behind increasingly impoverished urban core and rural areas. This band of migrating wealth shows up on the maps in deep blue. Researchers at Cleveland State University have dubbed it the "Sapphire Necklace."
The Sapphire Necklace is a band of high tax base cities, villages and townships that extends northeast-southwest between Lake and Medina counties. In contrast, tax bases are weakest in fully developed communities and in rural districts where little development has occurred. Thirty-two percent of the region's residents live in communities with the strongest tax bases, and 68 percent live in communities with the weakest tax bases.
Among the troubling implications of this map:
The future of Cuyahoga County is at risk, as erosion of tax base moves from the inner city and increasingly affects inner-ring suburbs.
Long-established public policies and practices (especially the construction of new highways) have favored the development of new communities at the outer edges of urban areas over maintenance and redevelopment of established, older communities. Unless these public policies change, the region faces a future of spreading decline, environmental degradation, and loss of farmland and natural areas.
The fragmented political structure of Northeast Ohio, which pits communities against one another in the competition for tax base, prevents cooperation for balanced development.
EcoCity Cleveland
3500 Lorain Avenue, Suite 301, Cleveland OH 44113
Cuyahoga Bioregion
(216) 961-5020
www.ecocitycleveland.org
Copyright 2002-2003
Outmigration
Shifting wealth
Zoned for development
Transportation spending
Lands at risk