Urban core communities of the region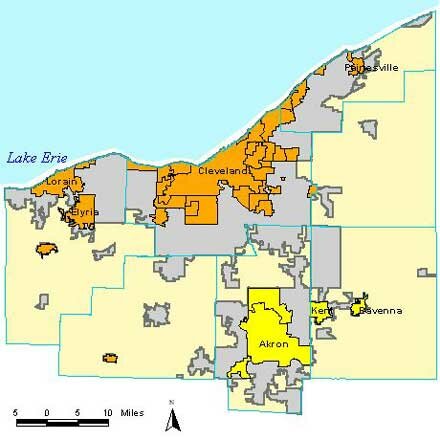 What: Older cities and suburbs in Northeast Ohio—that reflect more compact and efficient patterns of land use. Most of the urban core communities identified on this map were founded before the era of widespread automobile use. They offer a mix of land uses (residential, commercial, and work places) and a variety of housing types. They offer easy access to destinations by transit, bike, or foot. And they make cost-effective use of infrastructure. Smaller historic village centers in the region also share these characteristics.
Why: These areas are the urban centers of the region. If maintained and redeveloped, they can offer attractive places to live for a growing proportion of the households in the region.
How: The Northeast Ohio Areawide Coordinating Agency identified the core urban communities in Lake, Geauga, Medina, Lorain and Cuyahoga counties using five criteria: peak Census year for population, population density, age of housing stock, density of street networks, and assessed real property value per capita. EcoCity Cleveland identified core urban communities in Summit and Portage counties using similar criteria.

Where to put 210,000 homes?
According to Census projections, the seven-county region is expected to add about 75,000 households between 2000 and 2020. At the same time, the homebuilding industry will build about 210,000 new housing units if current rates continue. Most of those houses will be built on farmland in rural areas. Can we consider where else they might go?
Let's start by pointing out that there will be 135,000 more new houses than new households, meaning that a number of older homes could be abandoned in the region. What if we did a better job maintaining those older homes and communities or rebuilding on the sites of obsolete housing? We might find that most of those 135,000 housing units could be located where housing already exists. With aggressive redevelopment strategies, let's say that 100,000 units could be located in this way.
That leaves 35,000 plus the 75,000 new housing units needed by the new households, a total of 110,000. To find new sites for these houses, we could again look at the infill development potential of existing urban areas—creative ways to add attractive new housing to existing communities. For example, the City of Cleveland alone could take 500 new units a year for total of 10,000 over 20 years. If other core urban areas on the map at left absorbed a proportional amount, we might find room for 50,000 units. Done with good design and a mix of housing styles (single-family detached, condos, row houses, apartments), these units could contribute to the quality and diversity of core communities.
Out of the remaining 60,000 units, 30,000 might be distributed in newer suburbs. The emphasis might be to integrate housing in "edge city" employment centers as part of a retrofit program to turn them into denser, mixed-use centers.
That would leave 30,000 houses to be built in the country. Smart development would cluster the units in "conservation subdivisions" near existing towns. That would require the development of less than half of the land of conventional subdivisions.
If we could do all this, we could meet the future housing needs of our population with a diverse and affordable supply of homes. We could keep builders busy constructing new homes and rehabbing existing ones. And we could do nearly all of it within the existing developed area of the region.
We don't have to bulldoze hundreds of thousands of acres of countryside!
EcoCity Cleveland
3500 Lorain Avenue, Suite 301, Cleveland OH 44113
Cuyahoga Bioregion
(216) 961-5020
www.ecocitycleveland.org
Copyright 2002-2003