An Outer Emerald Necklace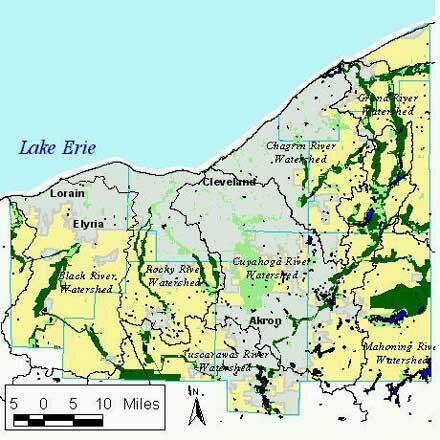 What: A proposal for creating a new, Outer Emerald Necklace in Northeast Ohio that combines existing protected spaces (in metroparks, conservation areas and recreational and institutional lands), river corridors and floodplains, as well as rail and utility corridors that could provide trails and links between protected areas.

Why: It's time for a next-generation greenbelt in the region to protect critical natural areas, provide recreational opportunities, ensure better water quality and prevent damage from flooding in most of our major river corridors, and create a buffer between rural areas and conservation development areas closer to the urban core.
How: Suggestions and proposals from individuals, land trusts, metroparks staff and planning commission officials in the seven counties of Northeast Ohio have been incorporated in this map. The identified metroparks, parks and conservation areas already are protected; the connections between them were identified to protect wetlands, floodplains and habitat for wildlife and provide recreational opportunities.
Open space: Now or never
People probably thought that Cleveland parks engineer William Stinchcomb was crazy when he began talking in 1905 about buying up land in the country for future parks. But today we are grateful for the foresight of early park planners like Stinchcomb. The Cleveland Metroparks' Emerald Necklace is one of the most important assets of Northeast Ohio. It contributes to our quality of life in countless ways and enhances the image of the entire region.
In the 1970s, we were fortunate to protect much of the Cuyahoga Valley between Akron and Cleveland. Now, as we approach a new century, it's time to think about the next big leap forward in open space protection-an Outer Emerald Necklace. Our region has expanded outward, and so must our vision of protected open space.
The metropark districts in the outlying counties have been working hard to acquire park lands, but their current resources will not allow them to assemble a comprehensive greenbelt before the land is gone. Development pressure is mounting. Land prices are rising. We need a major public investment today to assure that we protect the best natural areas-protect them for our children, for environmental quality, and for the survival of other species.
The map above shows the location of some of the most significant areas. There are a total of 212,480 acres in this proposed Outer Emerald Necklace. Of that, 53,837 acres are already publicly protected, and another 20,578 acres are publicly owned in the Ravenna Arsenal. That leaves 138,065 acres unprotected. If half of this land could be protected through conservation easements from private landowners, then about 69,000 acres would have to be bought. At $10,000 per acre (probably on the high side), the cost would be $690 million.
That sounds like a lot. But our region has the capacity to raise hundreds of millions of dollars for worthwhile projects. An Outer Emerald Necklace would be one of the best investments we could make.
An Outer Emerald Necklace could be a cooperative initiative of the metropark districts in the seven counties. It could include a mosaic of public park lands and private lands protected with conservation easements. The regional initiative also could create dramatic improvements in urban parks and begin work on a lakefront greenway.
EcoCity Cleveland
3500 Lorain Avenue, Suite 301, Cleveland OH 44113
Cuyahoga Bioregion
(216) 961-5020
www.ecocitycleveland.org
Copyright 2002-2003
Urban cores for redevelopment
Outer Emerald Necklace
Bioregional zoning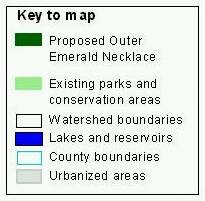 Cleveland Metroparks Open Space Inventory, from Ohio Capabilities Analysis Program (OCAP), ODNR;
United States Geological Survey (USGS);
U.S. Census Bureau Population Statistics; and
Northeast Ohio Areawide Coordinating Agency (NOACA)
I want to suggest the advisability of ultimately establishing an outer system of parks and boulevards...Through the valleys of Rocky River on the west, and Chagrin River on the east, lie some of the finest stretches of natural park lands to be found in the northern part of Ohio. While all this is now entirely outside of the city, it will be but a short time before they will be inside or very near the limits of a 'Greater Cleveland' and it seems to me that such fine stretches of natural parkway should be secured for the benefit of the entire public before private enterprise or commercial industry places them beyond reach.
William Stinchcomb,
chief engineer of parks for the City of Cleveland, in 1905.
(Stinchcomb's bold vision eventually became the Cleveland Metroparks' Emerald Necklace.)