Rethinking the region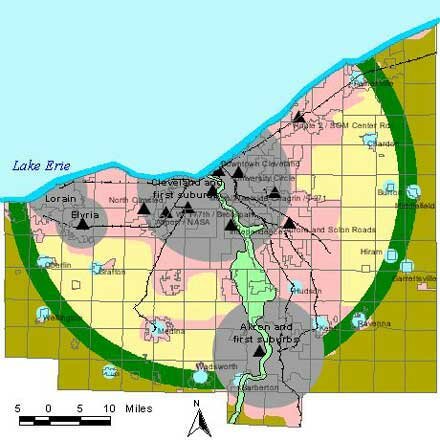 What: A composite, conceptual map of the Bioregional Plan's vision for Northeast Ohio. It shows recommended zones for urban cores, edge suburbs, conservation development areas, an Outer Emerald Necklace, and rural preservation. The urban cores are connected by rail transit to reduce dependence on the automobile.

Why: We need to reconceptualize the region in terms of development priorities and land preservation opportunities that cross county lines.
How:In a simple, graphic presentation, this map integrates our previous maps of urban cores, Outer Emerald Necklace, and transportation projects.
Bioregional zoning
A bioregional perspective allows us to look beyond the constraints imposed by city and county boundaries. It allows us to see broad patterns at the regional scale.
What are the underlying patterns of Northeast Ohio? We see the region having the following basic zones:
Urban cores: These are made up of the region's historic cities and older suburbs. They are places that have been fully developed for some time. They have relatively dense street grids and other infrastructure, walkable neighborhoods, and a healthy mix of housing, shopping and work places. They also may have increasing poverty rates and pressing needs for redevelopment. Maintaining the region's historic investment in these communities and promoting urban livability should be a top priority. Key programs for this zone include aggressive brownfields cleanup and land assembly, infill development, housing maintenance, historic preservation, urban park improvements, pedestrian and bicycle enhancements, streamlined permitting for redevelopment, and public school improvements.
Edge suburbs: These are newer communities, such as Strongsville and Mentor, within the region's urbanized area. Most are still growing, and they are developing at lower densities than the urban cores. Housing, shopping and work places are widely separated, so it's hard to get around without a car. Key programs for this zone include development of town centers with mixed land uses and higher density housing, redesign of streets to improve pedestrian environments, and redevelopment of strip malls and office parks to create better public spaces and architectural character. Edge city employment areas, such as Chagrin/I-271 and Rockside/I-77, are prime areas to be redeveloped as mixed-use nodes of activity where transit is a practical alternative to the car.
Conservation development zone: Communities in this zone are now rapidly developing, typically at extremely low densities with houses on large lots. Much of the land is in townships, but some is also in historic Western Reserve towns, such as Chardon, Oberlin and Hiram. If these communities are to preserve their rural character and small-town charm, they need to develop less and develop more compactly. Key programs for this zone include support for urban redevelopment to reduce pressure for rural development, reformed zoning and building codes to require compact and mixed-use development adjacent to existing towns, open space conservation requirements for subdivisions that must be located in rural locations, land trusts to protect land with conservation easements, right-to-farm laws, and watershed protection programs.
Outer Emerald Necklace: This zone contains river floodplains, wetlands, and other natural areas that should be preserved for future generations. Some of the land could be acquired by parks, but much of it could remain in private hands and be protected through a system of conservation easements. Key programs for this zone include a regional campaign to raise funds for open space preservation and new public-private partnerships to reach out to landowners.
Rural preservation zone: This is what we really mean by rural. Ideally, this area will see little development pressure, and a working, rural landscape will be preserved. New housing should be located in existing rural towns and villages, rather than located on frontage lots split from farm fields. Key programs for this zone include new forms of agricultural zoning and programs to support family farms.
EcoCity Cleveland
3500 Lorain Avenue, Suite 301, Cleveland OH 44113
Cuyahoga Bioregion
(216) 961-5020
www.ecocitycleveland.org
Copyright 2002-2003
Urban cores for redevelopment
Outer Emerald Necklace
Bioregional zoning
Data sources:
Cleveland Metroparks Open Space Inventory, from Ohio Capabilities Analysis Program (OCAP), ODNR;
U.S. Census Bureau TIGER files;
U.S Census Bureau Population Statistics;
Bogart, W.T. and Ferry, W. (1997) Employment Centers in Greater Cleveland: Evidence of Evolution in a Formerly Monocentric City. Manuscript, Department of Economics, Case Western Reserve University (submitted to the journal Urban Studies);
Portage County Regional Planning Commission