Planning to stay

How can we live well in our region and pass on a better place to our children? How can we take care of our environment, ensure equity and social justice, and achieve economic prosperity all at the same time?
For three days in May 2000, hundreds of the best minds in Northeast Ohio gathered to discuss these issues at the Sustainable Communities Symposium 2000. Here are their presentations and their agenda for putting our region on the path toward greater sustainability.
Around the world people are imagining new ways to improve their quality of life ways that balance economic progress, social equity, and long-term protection of the environment for future generations. In recent months an unprecedented array of local community, business, government, and academic organizations has come together to plan how Northeast Ohio can participate in this global conversation about sustainability.
The effort culminated in the Sustainable Communities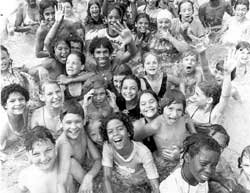 Symposium 2000 on May 11-13, 2000, at the Cleveland State University Convocation Center. More than 350 people gathered to celebrate all the positive work that is already being done in Northeast Ohio work to rebuild neighborhoods, promote transit, preserve open space, reduce energy use and pollution and to set priorities for what still has to change if we want more livable communities.
"The action agenda emerging from the symposium will set the stage for strategic cooperation among citizens and organizations from the entire region," says Phil Hart, former president of the Cleveland Chapter of the American Institute of Architects and chair of the SCS 2000 planning committee.
In the six months leading up to the symposium, more than 150 community leaders served in working groups to develop sustainability priorities in the areas of architecture and urban design, business and economics, political and zoning issues, and infrastructure. The symposium then was a working conference that allowed participants to discuss the recommendations and ratify the best plans for setting Northeast Ohio on the path toward greater sustainability.
The participants also committed themselves to implementing the SCS 2000 priorities. The symposium planning committee is devising ways to track progress and keep everyone informed and networked in the coming months. For more information about SCS 2000, call 216-523-7495, or see the SC 2000 Web site.
EcoCity Cleveland
3500 Lorain Avenue, Suite 301, Cleveland OH 44113
Cuyahoga Bioregion
(216) 961-5020
www.ecocitycleveland.org
Copyright 2002-2003
Proceedings of Sustainable Communities Symposium 2000
Three days in May 2000
Symposium agenda
The thought and practice of sustainability
Themes of the discussion
Agenda for architecture/urban design
Agenda for business/economics
Agenda for infrastructure
Agenda for political/legal issues
Agenda for health
Forging a regional civic vision
Committed to people and place
Sustainability pledge
Quotes from speakers
Participants
Resources for sustainability
Thanks
Download publication of SCS 2000 proceedings
Back to main sustainability page
Go to SCS 2000 site


When we build
let us think that we build forever.
Let it not be for present delight,
not for present use alone;
let it be such work as our descendants will thank us for,
and let us think,
as we lay stone on stone,
that a time is to come when those stones will be held sacred
because our hands
have touched them,
and that men will say
as they look upon
the labor and wrought substance
of them,
"See! This our fathers did for us."
John Ruskin