Cleveland EcoVillage News Archive
Tree Planting Grant
Congratulations to The Calvary Reformed Church Teen Disciples for winning a 2006 Deft Community Tree Planting Grant. The youth will identify tree planting locations and learn tree care skills over the summer, and then will plant the trees in the Detroit-Shoreway neighborhood this fall. Laura Stulic, Robert Poole, Yolanda McCarthy, Jade Kelly, Dominique Garcher, Brandon Witham, James Durrette, Thomas Faust, and Merrika Jeffries created the winning grant proposal.
Spring Rain Barrel Workshop
Save the date: Sunday, May 21st
2pm, EcoVillage Garden on Ithaca Court
At this workshop you will make your own rain barrel to capture stormwater from your roof. Rain barrels help keep stormwater from overloading the sewer system - which causes sewage to be dumped directly into the Cuyahoga River during large rainstorms. Rain barrel water is also good for your backyard plants. Please register.
Join the Community Garden
Learn about gardening and celebrate the joy of locally grown organic food with your friends and neighbors at the EcoVillage Community Garden. The gardening season is already well underway! The gardeners gathered for a work day on Saturday, March 25th and constructed some new gardening beds. A limited number of plots are still available. Some basic vegetables are provided free to the gardeners through the Summer Sprout program, or plant your own. The fee is $10 to join the garden for the year.
Market Gardening Locations Wanted
An enthusiastic group of EcoVillage gardeners are participating in the City Fresh Market Gardening Training this year. The group hopes to grow food in the neighborhood to sell to local restaurants and at the City Fresh Market under a cooperative business structure. The gardeners are looking for suitable locations for market gardening - if you own a property that you would let the gardeners cultivate for free or for a small leasing fee, please contact DSCDO soon.
Pear Avenue Cottage Homes Planned
The EcoVillage is partnering with the Cleveland Green Building Coalition's Emerging Architects Program to design four cutting edge, single family, energy efficient green homes for the site at W58th St. and Pear Avenue. DSCDO plans to co-develop the site with the Cuyahoga Community Land Trust to ensure that these homes will be affordable to buyers with incomes of $22,000 - $35,000. Land trust homes remain permanently affordable because the land trust limits increases in the resale price of the homes by retaining ownership of the land and selling only the houses built on the land to the homeowners. For more information about participating in Cuyahoga Community Land Trust homeownership programs, please call 334-1620.
CityWheels Launches Nearby
CityWheels car sharing provides hourly use of a brand-new, neighborhood based hybrid Toyota Prius or Scion xB. Hourly rates include gasoline, maintenance, and insurance. Rates start at $7.25 an hour. One of the first cars is located at St. Patrick's Church at W38th St. and Bridge Avenue. The purpose of CityWheels is to reduce dependence on private cars in order to help create a greener, more sustainable world. To sign up to drive a CityWheels car, contact Ryan McKenzie at 961-5020 x 209, or visit www.citywheelscleveland.com .
August 2005
W65th St. Bridge Opens
After 14 months of reconstruction the new W.65th St. bridge connecting the north and south sides of the EcoVillage over the Rapid tracks opened August 28th with a ribbon cutting ceremony and prayer service for children and teachers for the new year. St. Colman Church led the service, which brought together congregations from W65th St. churches and community residents. With financial support from Ward 17 Councilman Matt Zone, recommendations from EcoVillage residents generated at a public meeting last year were incorporated into the bridge design where possible. ODOT agreed to include a decorative steel fence, tree pits, historic gateway lighting, and sidewalk stamps on the bridge.
EcoVillage green home featured in Fine Homebuilding
David and Jen Hovis's home on W54th St, built by GreenBuilt, was featured in the July issue of Fine Homebuilding. See the article here.
EcoVillage Rain Barrels showcased at Burning River Festival
After the success of the rain barrel workshop in May, Dave Hovis brought his rain barrel making skills to a larger venue at the Burning River Fest August 13th. In partnership with Shaker Lakes Nature Center, the EcoVillage demonstrated rain barrel making and raffled off seven rain barrels.
New EcoVillage Intern from CSU
This year's EcoVillage intern is Lisa Warner. She is a graduate student in the urban planning program at the Cleveland State University's Levin College.
Bridge Ave Phase III at EcoVillage underway
A groundbreaking ceremony and ice cream social for Detroit Shoreway Community Development Organization's next townhome project in the EcoVillage will be held June 27th, 5:30 pm at the corner of W. 58th St. and Bridge Avenue. Environmentally-friendly features of the townhomes will include energy efficient design and a built-in recycling center. For more information please call Jeff Marks at 961-4242.
Zone Rec Greenspace Meeting
Draft design concepts for the Zone Recreation Center Greenspace were presented by the McKnight Associates design team at a community meeting on May 5th.
EcoVillage Receives NOACA TLCI Planning Grant
The Cleveland EcoVillage received a $12,000 grant through NOACA's Transportation for Livable Communities Initiative. The funding will be used to hire a consultant to study how to improve bus, bicycle, and pedestrian connections to the EcoVillage Rapid Station.
Artistic EcoVillage Sign for Rapid Station
The EcoVillage Community Advisory Committee received a $3,690 Neighborhood Connections grant from the Cleveland Foundation to install a handmade EcoVillage sign at the Rapid Station platform. Sarah Hayes, a local artist, will design the art for the sign.
EcoVillage Logo Finalized
We now have an official EcoVillage logo! The logo was designed by Sarah Hayes, a neighborhood resident, and will be stamped in sidewalks that are being replaced in the EcoVillage.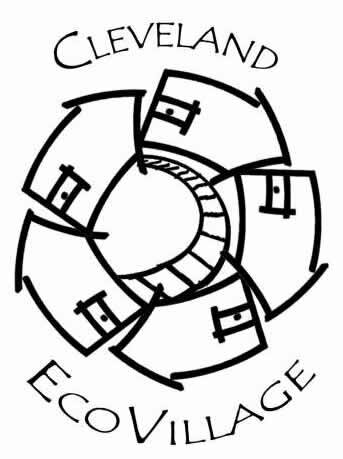 June 2005
On May 15th in the EcoVillage Community Garden David Hovis demonstrated how to convert a recycled plastic barrel into a rain barrel that can capture stormwater from the roof of a home. Participants then made their own rain barrels. The total cost of rain barrel materials was $15.00. David also demonstrated how to divert rainwater from a drainpipe into a rain barrel and will be providing handmade diverters to workshop participants.
Neighborhood residents recieved free trees and learned great tree planting tips from John Stupica, Master Gardener, at a workshop at the EcoVillage Rapid Station on April 23rd. The workshop was cosponsored by the Ohio State Extension. Participants planted a tree in front of the Rapid Station donated by Detroit Shoreway Community Development in honor of EcoCity Cleveland. They also planted a tree at the St. Colman's Anniversary House.
Two EcoVillage elementary schools, Watterson Lake, and Waverly, are the pilot location for the Asthma Friendly Schools Initiative led by the Greater Cleveland Asthma Coalition. The initiative is developing a comprehensive approach to asthma awareness and management in the Cleveland Public Schools. To get involved with the Cleveland Asthma Coalition, visit www.ohiolung.org/gcac.htm
Families of children with asthma in Cuyahoga County who meet income guidelines can receive free home repairs, energy efficiency improvements, and specialized cleaning to get rid of mold and moisture problems. Contact Stephanie McConoughey at the Cuyahoga County Board of Health at 216-201-2000 x1244.
We're very excited to have the St. Colman's Anniversary House in the neighborhood - please consider helping out with this deserving project. As a part of the celebration of St Colman Church's 125th anniversary, leaders from St. Colman's and its partner parishes, (St. Christopher in Rocky River, and Our Lady Help of Christians in Litchfield) have committed themselves to acquiring a neighborhood house, rehabilitating it, and offering it to neighborhood residents in need of affordable housing. Contact Eileen Kelly at 216-651-0550.
EcoVillage Book Club
Join this group to read and discuss books on ecovillage topics. The first book is Superbia! by Dan Chiras and Dave Wann. Visit our new EcoVillage Book Club Web Page.
March 2005
Conceptual Plan Update Meeting
We'll continue meeting with block clubs to get more input on the plan, and present the draft plan with all your ideas at a meeting this spring. An enthusiastic group of neighbors gathered at St. Colman's Church Nov. 20th to talk about future ideas for the EcoVillage. The group's priorities were:

Promotion of EcoVillage identity through signs, banners, solar lighting, media, etc.
Grocery store in the neighborhood
Lorain Avenue commercial development
Renovation programs and incentives for existing housing
Improvements to the Zone Recreation Center greenspace
Health and fitness for adults and children
Apartment development adjacent to Rapid station
Alternative energy demonstrations
Creating and enhancing public spaces
Home Solar/Wind Energy grants
The Ohio Department of Development Office of Energy Efficiency is accepting applications for grants for up to $25,000 for solar and wind energy projects for single family and multi-family homes. Applications will be accepted starting Feb. 1st. For more information and an application go to http://www.odod.state.oh.us/cdd/oee/ELFGrant.htm or call 1- 800-848-1300.
Smart Commute Mortgage
Buying a home in the EcoVillage or near a bus stop? You can get a Smart Commute Mortgage from Fannie Mae. Smart Commute will add up to $3000/year to your qualifying income and reduce the down payment to 3% of the cost of the home. Plus you get free RTA passes. This mortgage program recognizes that riding public transit saves you money that you can use toward your home purchase! For more information call Fannie Mae at 1-800-732-6643.

2004
The OSU extension sponsored a West Side Market trip from the newly opened EcoVillage Rapid Station. Participants got a free Rapid pass and learned about the importance of eating from all colors of the rainbow.
The EcoVillage Community Advisory Committee worked with ParkWorks to organize a Recycling Festival held on September 11th, 2004. The festival promoted the Zone Recreation Center drop off site and featured recycling games and crafts for kids. Thanks to the Earth Day Coalition, we were joined by a costumed recycling superhero!
EcoVillage residents got together to paint the pedestrian bridge to the new Rapid station.
2003
EcoCity Cleveland organized a meeting between EcoVillage community and technical advisory committee members and John Knott. John Knott, Jr. is a developer who gained acclaim through his work with Dewey's Island (considered one of the best examples of ecological development). He is currently working on the Noisette project in Charleston, SC, the largest urban redevelopment project in the country.
EcoCity Cleveland hosted national ecovillage expert, Daniel Greenberg, founder of Living Routes. EcoCity Cleveland organized meetings between technical advisory members and Daniel and organized two community events. These consisted of slide show presentations about ecovillages around the world that was attended by more than 60 people.
Urban ecovillage developers visit Cleveland: EcoCity Cleveland hosted the leading thinkers and directors of urban ecovillage projects in Cleveland on August 7-9, 2003. This included a meeting with EcoVillage project staff and Jim and Eileen Schenk from Cincinnati's Seminary Square EcoVillage, Joseph Corvidae from the Detroit EcoVillage, and Orion Kriegman from the Urban EcoVillage Network. EcoCity also worked with the Cleveland GBC to host a brown bag lunch forum with Manda Gillespie and the above experts on urban ecovillages. It was attended by more than 40 people.
On October 31, 2003, EcoCity Cleveland and the Cleveland GBC hosted a brown bag luncheon with Geoph Kozeny. Geoph gave a multi-media presentation on intentional communities and urban ecovillages and met with Cleveland EcoVillage staff and technical advisory members.
One of the most satisfying events in the Cleveland EcoVillage was the strawbale toolshed dedication. Dedicated to the late David Cornicelli, the first EcoVillage project manager, the strawbale celebration provided opportunities for the community to touch and feel the toolshed and remember David.
The Cleveland EcoVillage has hosted numerous community volunteer days, working with City Year, Key Bank, and the local block clubs. Hundreds of local and regional individuals have participated in improving the Cleveland EcoVillage. 70 Key volunteers worked to prepare the community garden for the winter, to clean the roadways, and to mark the first EcoVillage walking path.
EcoCity Cleveland
3500 Lorain Avenue, Suite 301, Cleveland OH 44113
Cuyahoga Bioregion
(216) 961-5020
www.ecocitycleveland.org
Copyright 2002-2003
EcoVillage news
Past professional workshops
Community planning