Key Bank volunteers lead EcoVillage clean-up blitz
Each year, the entire office of Key Bank fans out into the community to do volunteer work. On September 9, 2003 more than 70 Key volunteers arrived in the Cleveland EcoVillage (more signed up to volunteer here than anywhere else).
Working all afternoon., the volunteers turned the earth, spread mulch, mowed grass in the EcoVillage community garden and cleaned trash, edged, and hauled away lumber and used tires from along the alleys and roadsclearing the way for the EcoVillage walking path. They also helped layout and mark a stencil for the path. We appreciate their time and energy.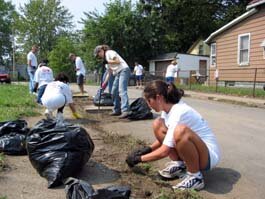 More than 70 Key Bank volunteers pitched in to create
the EcoVillage walking path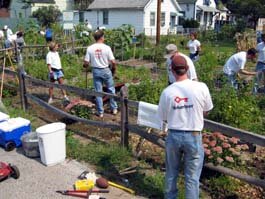 EcoCity Cleveland
3500 Lorain Avenue, Suite 301, Cleveland OH 44113
Cuyahoga Bioregion
(216) 961-5020
www.ecocitycleveland.org
Copyright 2002-2003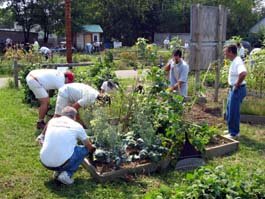 Key Bank volunteers clean and prune in the Cleveland EcoVillage community garden