News from the Cleveland EcoVillage
April 2007
Green Cottages at Pear Avenue Soon to Break Ground
Affordable green single family homes will soon become a reality with the Green Cottages at Pear Avenue. Starting at $105,000, the new construction two and three bedroom homes are targeted at families at 80% of median income or less. The houses are being developed by DSCDO in partnership with the Cuyahoga Community Land Trust (CCLT) and the Cleveland Green Building Coalition. Advantages of living in a green home include low utility bills and healthy indoor air quality. The homes are also designed to be accessible to the disabled. To find out more about purchasing one of the Green Cottages, please call Doris Honsa at CCLT at 334-1620.
New Greenspace Created on Bridge Avenue
Volunteers gathered to begin landscaping a new community greenspace on October 21, 2006. The site at Bridge Avenue and W.58th St. was formerly a gas station. It was an unsightly vacant lot for many years due to the threat of liability from possible contamination. The Cuyahoga County Community Assessment Initiative contributed over $58,000 to fund the environmental assessment of the site and the removal of underground storage tanks last spring. A $20,000 grant from the Bruening Foundation and assistance from ParkWorks funded a design charrette, site remediation, and landscaping. The landscaping will be completed this spring - watch for an opportunity to help plant the final touches.
Calvary Youth Plant Trees in Neighborhood
Youth from the Calvary Reformed Church Teen Disciples helped beautify the neighborhood by planting trees in the fall. The youth created a winning proposal for a 2006 Deft Community Tree Planting Grant. Donnie and Sue Papadopoulos with Greenwich Village generously donated eight shade trees, which were planted at the Lorain Library Educational Square. Trees were also planted by the youth at the EcoVillage Rapid Station. Joe Konen with the Ohio State University Extension provided guidance for the project.

Neighbors Gather at EcoVillage Community Garden
The EcoVillage Community Garden received a Neighborhood Connections grant last year to turn the garden into a gathering space for neighborhood events, including a Kids in the Garden Day and a Chef in the Garden Day. The garden is also the location of our Annual Rain Barrel Workshop, which took place this year on April 15th. The gardeners are planning another great summer, with more community events and weekly outdoor potlucks in the garden. To reserve a plot or get involved with the garden, please call Mandy at DSCDO.

Earn Extra Income Through Market Gardening
EcoVillage Produce, a local market gardening cooperative, sold over $1800 in produce to local restaurants, to the City Fresh program, and at farmers markets in 2006. EcoVillage Produce is gearing up for another successful year and looking to expand with new partners. Why not use your love for gardening to produce some extra income this summer? Contact Mandy at DSCDO for info on how to get involved.
Fresh Stops Return in June
The Detroit Shoreway neighborhood's Fresh Stop will be located at the Urban Community School at Lorain Avenue and W.48th St. again this summer with pickup of market bags on Thursdays from 3pm-7pm. Fresh Stops are active, colorful and festive places where individuals and families come together to meet, sample foods, talk about nutrition, swap recipes, have fun and take away a bag of fresh seasonal produce! The contents of each bag will vary according to what produce is available that week. While most food today travels 1,300 miles and can be off of the vine for more than 8 days, food at a Fresh Stop is picked fresh and delivered fresh. The price of a market bag "share" is $10 or $20 depending on your income. This year there will be a new "budget share" which is half the size of a normal share, ideal for singles, light eaters, seniors, or students. The budget share will be $10 regular/$5 limited income. Cash, checks, or Ohio Direction Card are accepted. Please sign up for a share in advance. City Fresh is a joint initiative between the New Agrarian Center (NAC) and Ohio State University Cooperative Extension. For more information on Fresh Stops and the City Fresh Program, or to sign up for a share, go to www.gotthenac.org.
EcoVillage Connections Plan Identifies Priorities
The EcoVillage received a Transportation For Livable Communities Grant from NOACA to study opportunities to improve bicycle, pedestrian, and bus connections to the EcoVillage Rapid Station. The consultant on the project, Jeff Olson of Alta Planning, conducted workshops over the summer to audit existing conditions and engage community input. A community meeting was held November 9, 2006 to identify EcoVillage neighborhood transportation connection priorities. Priorities identified by the plan included the reconstruction of the Madison Avenue Bridge, expanded bus service, traffic calming on residential streets, gateways that promote the EcoVillage identity, and Lorain Avenue streetscape improvements.
Get Involved!
The EcoVillage Community Advisory Committee usually meets on the second Thursday of every month at 7pm at Gypsy Bean Coffee - all are welcome. Please call Mandy at DSCDO to check for any meeting changes. Join the EcoVillage listserv at http://groups.yahoo.com/group/clevelandecovillage/ .

EcoCity Cleveland
3500 Lorain Avenue, Suite 301, Cleveland OH 44113
Cuyahoga Bioregion
(216) 961-5020
www.ecocitycleveland.org
Copyright 2002-2003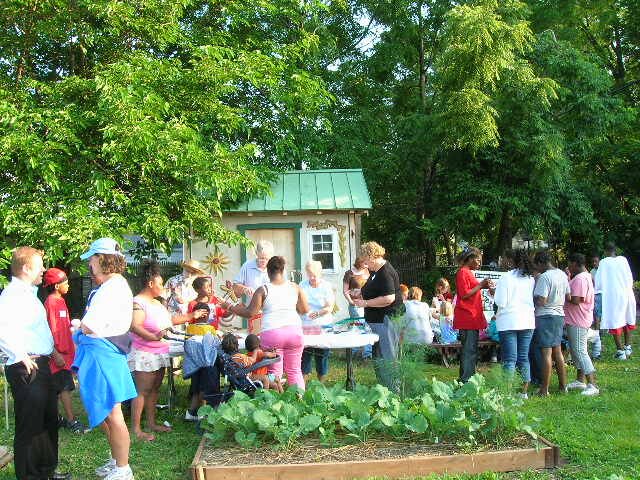 Kids in the Garden Day, summer 2006