Best practices
for urban waterfronts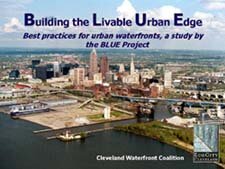 A presentation by the BLUE Project of EcoCity Cleveland and the Cleveland Waterfront Coalition.
What makes a great waterfront? What are the design principles? And what can Cleveland learn from successful waterfronts around the country?
This section of our site features a slide show presentation that will help citizens develop a common vocabulary for waterfront planning and designand prepare them to participate in the next round of public meetings for Cleveland's lakefront planning process (currently scheduled for May 2003).
The presentation is organized around five common elements of successful waterfronts:
Access
Quality of amenities, activities and design
Economic development
Environmental quality
Public process
To see the show, follow the links at right. There are more than 150 slides showing the current condition of Cleveland's lakefront and photos from other cities (note that each slide has a navigation bar at the top, which tells you where you are in the show).
Thanks to the George Gund Foundation and the Raymond John Wean Foundation for supporting the development of this presentation.
Thanks to our consultant, Patty Stevens of SchmidtCopelandParkerStevens, for her help in assembling this presentation.

EcoCity Cleveland
3500 Lorain Avenue, Suite 301, Cleveland OH 44113
Cuyahoga Bioregion
(216) 961-5020
www.ecocitycleveland.org
Copyright 2002-2003
Presentation outline

Click here to begin the slide show or follow the links below to the start of each section
Current conditions

Best practices

Contact with water
Continuous public space at the edge
Open and green
Connections to the urban core and neighborhoods
Multi-modal
Welcoming to all
Quality of amenities, activities, and design

Current conditions

Best practices

Continuity of design elements
Quality of construction, materials, maintenance
Comfort, safety
Place specific
Variety
Current conditions

Best practices

Water is the attraction
Built for local residents
Integration of public and private
Mixed use
Housing
Maximize the edge
Eco-tourism

Current conditions

Best Practices
Work with nature
Restore ecological functions:
Diversity of native species
Habitat restoration
Improve water quality
Natural areas
Green building practices
Integrate interpretation
Reduce noise and visual pollution
Current conditions

Best practices
Informed involvement
Open/transparent/clear
Alternatives evaluation
Stimulates imaginative thinking
Willingness to experiment and take risks
Cultivates sense of ownership & pride
Summary
How will we apply these best practices to our waterfront?
Build on our unique heritage
Celebrate our local distinctiveness
Photography credits