Updates for bike advocacy
in Northeast Ohio
ClevelandBikes organizes Bike to Work Days (8/22/05)
On the third Thursdays of the month, take comfort in riding to work with a group of experienced cyclists. Meeting places, free coffee, showers available at the Downtown YMCA, bike giveaways...For all the information, click here.
NOACA approves funding for bike racks on all RTA buses (posted 3/15/04)
The Northeast Ohio Areawide Coordinating Agency will disburse $231,000 to complete the installation of bike racks on 100 percent of the buses. RTA will be able to purchase 294 racks and install them on all the buses in its fleet as well as adding racks to community circulators, park-and-ride buses, and the big coach buses. Four years after the Rack and Roll program was initiated, at the request of EcoCity Cleveland and others, cyclists will be able to put their bike on any vehicle in the RTA system. Purchase of the racks should come within a week of RTA board approval tomorrow.
Cycling advocates respond to ODOT bike lane manuever in Euclid Corridor (posted 2/18/04)

In February, ODOT District 12 staff objected to Euclid Corridor's proposed design detail which ends bike lane markings well back from each intersection whenever a "choice lane" exists (straight or right turn allowed). Cycling advocates responded by pointing to an option that appears in the American Association of State Highway and Transportation Officials guide, but is conspicuously absent from ODOT's manual.
While the district office of ODOT is now retreating from its
position that the bike lane must be replaced by a "bike
route", the lanes are not yet back in the design.
If you want to see bike lanes included in the Euclid Corridor project, the upcoming public meetings are an excellent place for you to get on the record and strengthen the City's resolve. Your participation will make a difference.
If you cannot attend a meeting but want to take action,
consider writing a letter to the director of ODOT District
12 and copying Mayor Campbell (addresses below).
Please note that the City of Cleveland is actively defending
the bike lanes, and that RTA is at least neutral (simply
want to keep the project moving forward). ODOT officials
are the only ones who have advocated the removal of bike
lanes from the Euclid Corridor.
Send letters to:
David J. Coyle
Director,ODOT District 12
5500 Transportation Blvd
Garfield Hts, OH 44125
copy to:
Mayor Jane Campbell
601 Lakeside Avenue
Cleveland, OH 44114
ODOT tries to remove bike lanes from Euclid Corridor (posted 2/1/04)

Controversy erupted recently when the Ohio Department of Transportation maneuvered to remove bike lanes from the RTA's Euclid Corridor Transportation Project, proposing to replace them with a general-purpose shoulder and bike route signs.
While project officials claim that nothing would really change, bike advocates warn that shoulders create a legal and operational gray areasince shoulders can be used routinely for stopping or parking by motor vehicles that make them distinctly inferior to full-fledged lanes.
The controversy started when ODOT raised questions about proposed intersection design details, despite the plan's compliance with national standards from the American Association of State Highway and Transportation Officials, a federally sponsored best practices guide. According to an ODOT representative, ODOT has officially adopted AASHTO standards. There are no separate ODOT standards.
Yet, ODOT's District 12 staff produced a memo for the Euclid Corridor 60 percent design approval meeting that suggested eliminating bike lanes with AASHTO-approved pavement markings, and replacing them with a general purpose shoulder to be 3-5' in width. They would add signage dubbing the street a "bike route".
In making this change, however, some bike advocates warn that ODOT is seeking to minimize the official presence of bike facilities on urban streets, and is doing so in this case by downgrading "bike lanes" into "shoulders."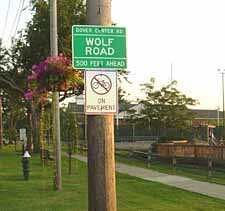 Bay Village reaches out to bike community (posted 10/9)

Bay Village, a bedroom suburb on Cleveland's far West side, is making an unprecedented effort to become a more bike friendly community. The tony community doesn't have much of a track record for encouraging bicyclingeven going so far as to prohibit bikes on some of the only roads that traverse the community. But, Mayor Debbie Sutherland is out to change that image. She recently convened a meeting with representatives from EcoCity Cleveland, EarthDay Coalition and Cleveland Green Building Coalition to discuss recommended steps and actions the city can take to make it more inviting to bikes and pedestrians. Since the meeting, EcoCity has helped form a volunteer, bicycle-friendly task force with the mayor's support and a representative from the police department. The group will meet at least once a month and periodically with staff members from city departments such as police, street maintenance, parks & recreation to dialogue around making changes on the ground. In addition, EcoCity Cleveland transportation manager Ryan McKenzie will help obtain technical resources such as model bicycle-related local ordinances and a summary of safety studies documenting the danger of riding on sidewalks instead of sharing the road.
Bike advocates to revive advocacy org (posted 9/24)

A group of local bike advocates including Brendan McNamara, ad hoc leader of the Critical Mass rides, and Jim Sheehan, co-founder of the Ohio City Bike CoOp have formed Cleveland Bikes. This is a reformation of the Cleveland Area Bicycle Association (CABA), the umbrella advocacy group for local cyclists that has been mostly dormant since 1997. The group was formed in 1992 to give cyclists a voice in government decision-making, but also became involved in bicycle education, implementing Cleveland's first Earn A Bike program, ReBicycle Cleveland!
Though it was never formally incorporated or staffed, under the leadership of local cyclist Bill Trentel, CABA "earned a reputation for reasonable, approachable expertise on cycling issues working with government advisory groups," according to Sheehan. CABA's activities waned, however, when key volunteers moved or started families.
OCBC is expressly not an advocacy organization, but is working with a group of concerned individuals to help bring back this important voice of Cleveland's cycling community. It's their intention that the organization be professional, inclusive, and focused. Creating a board to work toward these goals is a primary objective.
There are several reason why now is the time to revive CABA and make it more stable and effective. First, after editor Jim Guilford's long labor of love, Crankmail is in need of a new caretaker, and this asset to the cycling community here should not be lostit is an incredibly valuable and unique communication tool.
In addition, the new Critical Mass movement has generated lots of visibility and energy looking for a constructive outlet; the press is seeking a "mainstream" cyclist's perspective, and many cyclists are looking to contribute in other ways than the "non-organizational" and in-your-face (deserved or not) Critical Mass rides. And, the Campbell administration has expressed a commitment to be "bike-friendly" and needs a cohesive, well-represented constituency to provide the political will to make that happen. Finally, the recent cyclists' victory in the WMJI uproar has generated some cash, which it has been agreed should go toward a long-term committment to improving the conditions for bicyclists.
As a step toward that end, OCBC has offered to present an educational, Cycling In The Metroparks seminar and ride series for Metroparks staff and administration, the press and the public, to clarify the issues of parkway versus all-purpose path cycling. To make this effort meaningful, however, there must be an advocacy group to organize and promote it, and then ensure that decision-makers follow through with real improvements. Since this issue was identified as the most important to cyclists in a 1994 CABA survey, and has high visibility today, it would be a perfect first campaign for CABA to undertake. [One important note: the Cleveland Area Mountain Bike Association has formed since CABA's dormancy, and concern about possible confusion of names should be addressed first off].
Friends of Circle-Heights Bike Network form, hold first event (posted 9/24)
Inspired by EcoCity Cleveland releasing the Circle-Heights Bike Network Map a group of citizens have formed an advocacy group, Friends of the Circle-Heights Bike Network, focusing on improving conditions on the roads for bicycling to and from the great destinations in the University Circle and Heights area. On September 6, the group held its first event, The Rolling Block Party, a bike ride to survey the road hazards in the network. Around 20 people participated in the ride/survey and the group plans on using their report in a letter writing campaign to city service directors in an attempt to have the hazards eliminated.
Circle-Heights Bike Map released (posted 2/25)
EcoCity Cleveland has released the Circle-Heights Bike Network map, a vision for creating a bike-friendly district in University Circle and the surrounding Heights.
NOACA creates five new city streets bicycling maps (posted 1/24)

The Northeast Ohio Areawide Coordinating Agency (NOACA), the Greater Cleveland transportation planning organization, just released five bicycle transportation maps for Cuyahoga, Geauga, Lake, Lorain, and Medina Counties to help promote bicycling in the city. The streets are categorized according to cyclist skill level, and the maps include riding and safety tips as well as Ohio law regarding bicycling. For information on obtaining the maps or call Sally Hanley at 216-241-2414, ext. 273
Mayor Campbell announces plans to form Bicycle and Pedestrian Advisory Committee (posted 1/4/03)
Cleveland will purchase and install 500 bike racks citywide (posted 11/21/02)

It looks like Cleveland's City Racks project to install 500 bike racks throughout the city is going to happen in 2003 after all. The city planning department released its rack request postcard and will accept requests from anyone who has an idea of where a rack should be located.
Clean Ohio Trails Fund Grant Awards (posted 10/24/02)

The following update comes from OKI Bicycle E-info News. To subscribe, email: [email protected].
On September 18, Governor Taft announced 24 grants from the State's Issue 1 Clean Ohio Trails Fund totaling $6.25 million. This is the first of four years that such projects will be funded. The Ohio Dept. of Natural Resources, administrator of the fund, received 79 applications. The following applications were funded in the OKI region:
$275,000 to the Butler Co. Engineer to construct 1.55 miles of the Port Union-Gilmore ponds Historic Canal trail in West Chester for bicycling and pedestrian use. (This will be a part of the M 2 M trail)
$230,000 to the City of Cincinnati to construct a 1 mile portion of the Ohio River Trail between Corbin St. and Stanley Ave at Kellogg Ave.
Check here for the rest of the state
Cleveland works toward bike-friendly status (posted 9/17/02)

The following news blurb appeared on e-mail bulletin of The National Center for Bicycling and Walking:
According to a September 6 NewsNet5 TV story out of Cleveland, Ohio, "If you're looking for a way to get some exercise, the city of Cleveland may be able to help. NewsChannel5's Debora Lee reported on the city's new bicycle plan. When the weather's good, you're likely to see a man identified as 'John' riding his bike in the park, to the gym downtown and even to work.
'I like the exercise, and it's easy to get around,' he said. 'You (have a) car and you (have to) think about parking. You (have to) think about a lot of things.'
Steps are being taken to make Cleveland a more bicycle-friendly city. There are hundreds of new racks for bicycle parking, and a bikeway master plan is in the works, which include the addition of bike lanes in areas such as the Euclid Corridor. 'By placing bike paths between CSU and Case, we have a university to university bikeway connector,' Mayor Jane Campbell said.

Source: NewsNet5
Related link: EcoCity Cleveland
But is Cleveland really bicycle friendly? (posted 9/17/02)

Long-time local bike advocate Fred Oswald has created a system to rate local bike lawsand the grades look pretty mediocre. Although not everyone would agree with the details of his methodology, EcoCity believes he's raising an important issuethat bike laws are treated inconsistently in local law. Read his article at crankmail.com
Bridge to the future (posted 9/6/02)
The Detroit-Superior Bridge project to convert the two outer traffic lanes into a "suspended park" with a wide pedestrian promenade, bike lanes and racks, public art with the theme of measurements (a sun dial, seismograph, etc.) and sheltered seating has received the approval of the Cleveland Planning Commission today. Minor modifications to the design of the roadway now are the last (minor) hurdle to making it a reality. Stay tuned for more details...
Euclid Avenue's new role as bike freeway (posted 8/21/02)

EcoCity Cleveland just returned from the Euclid Corridor planning meetings where we participated in the discussions that secured a shared committment from the City of Cleveland, RTA and major stakeholders to create bike lanes in the new Euclid Corridor. After many months of negotiations, all sides came to an historic agreement to include street-level painted bike lanes from Cleveland State University to University Circlegiving a tremendous boost to multi-modal transit options and the future livability of Cleveland.
EcoCity Cleveland
3500 Lorain Avenue, Suite 301, Cleveland OH 44113
Cuyahoga Bioregion
(216) 961-5020
www.ecocitycleveland.org
Copyright 2002-2005