Mayor Campbell steers efforts
to make Cleveland bicycle friendly
After visiting Chicago last spring, Mayor Jane Campbell was inspired to make Cleveland a truly "bicycle-friendly" city by the year 2010. Her plans include establishing a Bicycle and Pedestrian Advisory Committee to help make it happen.
The committee's purpose will be to establish citywide policies for bicycle and pedestrian-related improvements and to recommend and review projects that advance those policieswhile ensuring that community concerns and ideas are incorporated into the process. In addition, the committee will help craft the bicycle- and pedestrian-related elements of Cleveland's new comprehensive plan.
The committee will function in an advisory capacity to the City Planning Commission and will work closely with the Department of Public Service and other relevant city departments.
Nine current bike-related initiatives in Cleveland lauded by Mayor Campbell:
1. Detroit-Superior bridge improvements
2. Lakefront BikewayPhase II
3. Euclid Avenue bike lanes
4. Towpath trail extension to downtown
5. Bicycle parking in all city garages and art racks fronting City Hall
6. Bicycle and Pedestrian Advisory Committee
7. CityRacks/CitySeats programPhase I
8. RTA's Rack & Roll program for bikes on buses and trains
9. Cleveland bikeway master routes map

EcoCity Cleveland
3500 Lorain Avenue, Suite 301, Cleveland OH 44113
Cuyahoga Bioregion
(216) 961-5020
www.ecocitycleveland.org
Copyright 2002-2003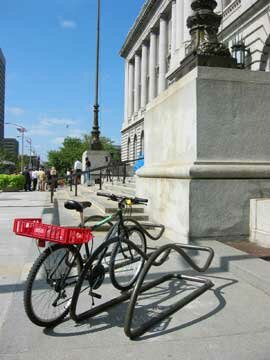 Attractive bike racks were installed in front of Cleveland City Hall recently to send the signal that Cleveland is committed to bicycling.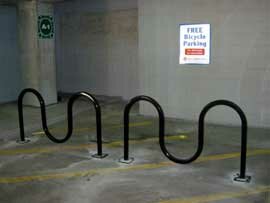 Bike racks were also installed in the City Hall parking garage.