Rack & Rolling ahead
Early counts on RTA's bike racks on buses program are in
After months of consulting with EcoCity Cleveland, the Greater Cleveland Regional Transit Authority (GCRTA) has agreed to beef up its Rack & Roll Program by placing bike racks on all RTA buses by Spring 2003. This on the heels of allowing bikes on the Rapid during off peak hours.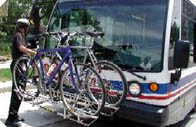 And now Rack & Roll is racking up the users. RTA started tracking the program this summer with rail operators calling in and bus operators using cards to count bikes on board.
The counts are in for the months of July and August. The top routewith 120 bicyclist boarding buses during the month of Augustserves East Cleveland and the Euclid Corridor. The figures might be higher, but a number of trip counts had missing dates, according to an RTA official, and were included in a separate category. In addition, the numbers mostly likely are underreported because of ongoing training for bus drivers (this lack of a system may be a cause for lower than actual boardings reported). Coming in second and third with 100 and 80 cyclist-riders (in August) are routes serving St. Clair Avenue and Lake Shore Boulevard. Meanwhile, the Red Line Rapid had nearly 400 bicyclist trips in July and more than 100 for the Blue and Green lines, with slightly less during August.
To put it in perspective, in Chicago 244 bicyclists used bus racks last July (2001 was the first year offered) whereas this July 1,187 bicyclists used bus racks. Greater Cleveland can expect to attract more users once all RTA buses are equipped with racks in another year.
Click here for detailed information on the Rack & Roll Program.
EcoCity Cleveland
3500 Lorain Avenue, Suite 301, Cleveland OH 44113
Cuyahoga Bioregion
(216) 961-5020
www.ecocitycleveland.org
Copyright 2002-2003