Wetlands:
frequently asked questions
Below are some FAQs we receive at EcoCity Cleveland on the subject of wetlands. During the past year, controversial legislation passed by the U.S. Congress governing wetlands permitting, and the Ohio Assembly recently passed its own version of a bill governing wetlands. In addition, we have included ideas you can use to protect wetlands in your community.
Where can I find information on wetlands?
The Ohio Department of Natural Resources Wetland Website has useful information.
The U.S. Environmental Protection Agency (EPA) recently released a series of 12 fact sheets covering a range of wetland issues/topics. The titles in the series include the following:
Wetlands Overview
Types of Wetlands
Functions and Values of Wetlands
Threats to Wetlands
Wetland Restoration
Funding Wetland Projects
Wetland Monitoring and Assessment
Wetland Monitoring and Assessment: A Technical Framework
Wetlands Program Development Grants
Teaching About Wetlands
Sustainable Communities
Volunteering for Wetlands
How do government officials define a wetland?
For regulatory purposes under the Clean Water Act, the term wetlands is defined by the U.S. EPA as "those areas that are inundated or saturated by surface or ground water at a frequency and duration sufficient to support, and that under normal circumstances do support, a prevalence of vegetation typically adapted for life in saturated soil conditions. Wetlands generally include swamps, marshes, bogs and similar areas."
Is there a biological definition of wetlands?
The Ohio Wetlands Foundation adds this to the definition:
"Many wetlands are difficult to identify because they may be dry for most of the year, but during the growing season, there is far too much water for the land to support...Barred owls, treefrogs, leopard frogs, garter snakes, herons and ducks, are just a few types of wildlife that may be abundant in the wetlands, depending on the diversity of the wetland's plant life. Wetland plant life consists of grasses, flowers and trees."
Why do we need wetlands?
Wetlands serve a very necessary function as filters, purifying water that flows through them, trapping sediment, giving plants and microorganisms a chance to biodegrade many pollutants, and are often hidden gateways to groundwater and aquifers. Wetlands provide some of the richest and most diverse ecosystems on Earth.
What is the government doing in the area of wetlands?
The Ohio EPA recently released its guideline for general permits, OAC Rule 3745-1-54, to regulate "wetland designated use" including developments that dump dredge and fill material into Ohio wetlands. Known as the "antidegradation rule," this is the state's way of categorizing wetlands based on their functions, sensitivity to disturbance, rarity and irreplaceability and scales the strictness of avoidance, minimization, and mitigation into three (3) wetlands functions. See the Ohio EPA for more information on the permitting process of wetlands use, and read the Ohio EPA report on Ohio's wetland biodiversity and impact study.
How has national legislation impacted wetlands preservation?
The Clean Water Act has slowed the rate of wetlands destroyed nationally by development from 700,000 square miles of wetlands per year in the 1950s (twenty years before the first legislation was enacted) to 100,000 acres per year today.
What are the criticisms of wetlands legislation?
A critical shortfall exists in the new legislation that allows developers to fill in wetlands while building a new wetland elsewhere. Major problems exist with this scenario. Studies have shown that replacement wetlands have not created a function-for-function exchange in wetlandsin other words, the loss of biodiversity is usually greater than the gain from what is created.
According to

Sustainable Landscape Construction

[Island Press, 2000] one such study found that 23 percent of replacements are merely "tanks"steep sided ponds built for livestock on ranches. Worse yet, the wetlands replacement program (also called "mitigation banking") may end up hurting places such as Northeast Ohio, because the current legislation allows a developer to fill in a local wetland and build a replacement wetland in another county.
Ultimately, unless a new biosystem is established, this practice will exacerbate the net loss of wetlands benefits in Cuyahoga County. Restoring wetlands on sites where they previously existed has a much higher chance of success.
What can I do to protect a wetland?
On a local level, wetlands can be protected in a number of ways. If you own a parcel of land that contains a wetland and you would like to see it protected, you can make a tax-deductible donation to a nonprofit land trust which will permanently protect it from development. Or, you may continue to use the land and ensure that it will remain undeveloped in perpetuity through a legally binding, tax-deductible process known as a conservation easement, a donation which permanently limits the type and scope of development.
Under the Internal Revenue Code, for most gifts of appreciated land or conservation easements, a taxpayer can deduct up to 30 percent of his adjusted gross income in the year of the donation. For more information on making a conservation easement, visit The Land Trust Alliance.
What can I do to prevent the wetlands in the woods behind my house from being filled in?
First, find out if you or a developer owns the land. In the latter case, you might not be able to do much. But, citizens interested in being proactive about wetland protection can attend local city council and zoning board meetings and ask their local officials if they have drafted and upheld conservation development zoning.
The standard residential conservation development requires that at least 40 percent of the land in a development be retained in open space.
Attend council, planning and zoning board meetings and inquire if your community has a zoning standard that protects urban streams and wetlands.
I'm a developer, what are my options for developing near a wetland?
A few options exist. First, low-impact development has worked particularly well for building nature centers and recreation areas in or near wetlands. By using floating foundations or pinned foundationsneither of which extend into the soilyou can eliminate the need for heavy machinery. For more information and for case studies, read Sustainable Landscape Construction: A Guide to Green Building Outdoors.
If you are a developer in Northeast Ohio looking for a mitigation banking option in order to purchase wetlands credits, you can contact The Ohio Wetlands Foundation, which operates mitigation banks, including Trumbell Creek, a 460-acre wetland with 135 available credits.
What are people in Northeast Ohio doing to save wetlands?
In one recent example, local activists in Parma proved that a small group can have a large impact on development and land use, particularly, in protecting wetlands. With help from U.S. Rep. Dennis J. Kucinich, concerned citizens brought a case to Parma City Council which agreed with the city's planning commission to reject a bid to fill in a wetland on a 33-acre area west of Broadview Road that powerful developer Bart Wolstein wants for big box retail.
Kucinich filed a friend-of-the-court brief and urged Parma City Council to take the land through eminent domain, The Plain Dealer reported on March 16. Kucinich is backing Parma's efforts to convert the property to a park. He has introduced a bill to declare the site a national park.
Where can I find more information on wetlands?
A number of good Web sites exist, including:
The U.S. Department of the InteriorU.S. Geological Survey's National Wetlands Research Center
Wetlands International
The Ohio Wetlands Foundation
The U.S. Fish and Wildlife Service's National Wetlands Inventory
Also, guide books such as

Sustainable Landscape Construction

offer specific techniques for low-impact development that citizens, landscape architects, developers and urban planners can use to protect wetlands. Check out The Builders Store Network.
What can I do to protect the quality of a wetland on or near my property?
Ultimately, the steps we take as citizens to protect a local wetland are similar to those taken to protect urban streams and watersheds. Read EcoCity's Easy steps to help Doan Brook and other urban streams to develop a personal plan for protecting watersheds, including wetlands.
For an up-close-and-personal look at one local family's successful bid to save a wetland-rich property in Geuaga County through conservation easement, read EcoCity Cleveland contributing artist Mary Kelsey's story, Land and Dreams: One family's conservation easement.
EcoCity Cleveland
3500 Lorain Avenue, Suite 301, Cleveland OH 44113
Cuyahoga Bioregion
(216) 961-5020
www.ecocitycleveland.org
Copyright 2002-2003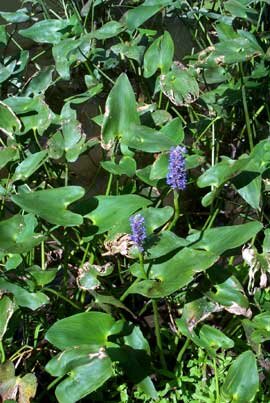 Standing up for wetlands
The following statement from a local conservation advocate was distributed to encourage citizens to get involved in wetland regulation issues.
Impacts to wetlands and streams do not affect just the landowner, even though it is more comfortable to believe that that is the case. Even the smallest, least remarkable wetlands are conditioning, evaporating and transpiring, and slowing down surface waters, or at least holding rainwater that would otherwise flow into our streams unabated. Wetlands act as carbon sinks, reducing the amount of carbon dioxide in the air, and certain anoxic bacteria found only in wetlands are critical to the balance of nitrogen in the atmosphere.
In terms of the hydrologic cycle, there is no such thing as an isolated wetland. I guess what I'm saying is that it may be within the realm of private property rights to trash your own property, but it is not okay to throw your trash over the fence. Filling and otherwise damaging wetlands has a direct impact on the public domain, or the things we own in common, like wildlife, rivers and streams, groundwater, and even climate.
Uncomfortable as environmental regulation may be, when the public interest is at stake, someone has to take a stand. Chris Jones [director of Ohio EPA] told us that that he is constantly being pressured by the business community to relax wetland regulation. Now he needs to hear from a broad coalition of groups concerned about our environment and the great outdoors that any relaxation is unacceptable. Ohio has lost well over 90 percent of its native wetlands.