Summary
Prepared for EcoCity Cleveland
by Stuart Meck, AICP, with Jason Wittenberg,
The American Planning Association,
September 1998
This working paper presents a proposal to develop a Smart Growth legislative agenda for Ohio. This agenda is intended to respond to long-term trends affecting the state and to fit with Ohios governmental structure and political traditions. Its goal is to shape a new approach to development, redevelopment, and resource conservation.
The first part of the paper gives an overview of Ohios progressive traditions in planning and land-use control. The second part analyzes economic, demographic, and land consumption trends in the state since the 1960s, both on a statewide basis and among seven urbanized areas. While population growth overall has been modest, it notes that urbanized areas have spread rapidly outward, due in part to Ohioans consuming much more land per capita than in previous years. Employment in metropolitan areas also decentralized from core to outlying counties. In addition, the density of the urbanized areas of the state decreased markedly, resulting in greater land consumption for development purposes and loss of farmland. The third part of the paper reviews a number of state plans and programs that affect, directly or indirectly, the pattern and amount of growth. The fourth part describes how six other states-Oregon, Washington, New Jersey, Tennessee, Rhode Island, and Maryland-have confronted similar trends and what measures they have taken. The last part lists several criteria that a Smart Growth agenda should satisfy.
Next, the paper proposes a legislative program consisting of three components:
(1) a high- level organization to coordinate among state departments and promote sound planning at all levels;
(2) a cross-cutting state goals document that will integrate state policy and set direction for development, redevelopment, and resource conservation for Ohio; and
(3) an incentive-based program to guide state capital investment, based on a 1997 law from Maryland, that would target state growth-related expenditures to county-designated compact growth areas that meet certain statutory criteria.
Finally, the paper suggests a number of immediate measures that a new governor and the state legislature could take to provide leadership in implementing this new agenda.
EcoCity Cleveland
3500 Lorain Avenue, Suite 301, Cleveland OH 44113
Cuyahoga Bioregion
(216) 961-5020
www.ecocitycleveland.org
Copyright 2002-2003
Smart Growth Working Paper
Summary
Introduction
Part I: Historical background
Part II: Overview of trends
Part III: State agencies' policies
Part IV: Land-use planning models
Part V: Smart growth for Ohio
Next steps
Conclusion
Appendix
Back to main Smart Growth Agenda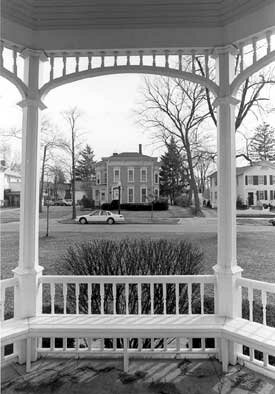 Smart growth means being better stewards of Ohio's cities and small towns.