How do I stop the
development down the street?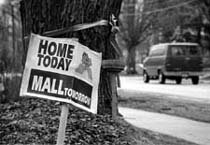 Unfortunately, when you see the signs (right), it's usually too late to do anything to stop the development. Instead, the best thing an ordinary citizen can do is engage their local government officials in making smart land-use decisions proactively which requires foresight and resources.
A good resource on the subject is the book, How To Win Land Development Issues, which can be downloaded for free from Community & Environmental Defense Services.
This 101-page book is a comprehensive citizen guide to resolving concerns about sprawl, highways, commercial and residential projects, landfills, and a number of other development types. The book emphasizes a win-win approach utilizing Smart Growth principles.
Other resources:
Center for Farmland Preservation in Northeast Ohio
City Comforts: How to build an urban village by David Sucher. A book that explains the long term solution to preventing sprawl development is to make existing neighborhoods more livable and competitive with new development
Congress for the New Urbanism on better urban design
National Trust for Historic Preservation on defeating chain drugstores
Sprawl-Busters information on fighting big box stores
EcoCity Cleveland
3500 Lorain Avenue, Suite 301, Cleveland OH 44113
Cuyahoga Bioregion
(216) 961-5020
www.ecocitycleveland.org
Copyright 2002-2004