Spring 2005
Page 1
Sustainability is bigger than we think
City names sustainability program manager
Top green cities
Great Lakes Declaration
"European Dream" is rooted in sustainable development
Urban Environmental Accords 2005
Page 2
Dike 14's role in a great lakefront
Burning River Fest on Aug. 13— Save the date!
EcoVillage awards
Unbreathable: Cleveland area air pollution
Columbus goes green
Ohio Bird Conservation Initiative
Page 3
Support the Greater Ohio Principles
Lake Erie Balanced Growth pilot watersheds
420 million: Smart growth needed to cope with America's coming population boom
Smart growth benefits for children and schools
10 commandments for designing great cities
Active Living and Social Equity: A guide for creating healthy communities for all residents
Mega-trends could help American cities and older suburbs
James Kunstler's eyesore of the month
Property rights: If there are takings, why not givings?
Page 4
The road out of Cuyahoga County
Cleveland is a Bike Town
An iconic bridge for Cleveland?
RTA long-range plan will guide transit development
EcoCity Cleveland
3500 Lorain Avenue, Suite 301, Cleveland OH 44113
Cuyahoga Bioregion
(216) 961-5020
www.ecocitycleveland.org
Copyright 2002-2004
Archives of the EcoCity Digest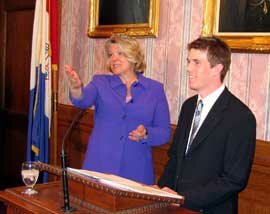 On May 26, Cleveland Mayor Jane Campbell introduced Andrew Watterson as the city's first sustainability programs manager. Watterson is a native of Greater Cleveland and has experience constructing green buildings, including the Cleveland Environmental Center. The new position is designed to help the city save money, create jobs, and improve public health through environmentally friendly programs. EcoCity Cleveland helped to lead a consortium of local sustainability organizations that worked with the city to create the position and raise funds to support it.