Cleveland hires sustainability programs manager
On May 26, Cleveland Mayor Jane Campbell introduced Andrew Watterson as the city's first sustainability programs manager. Watterson is a native of Greater Cleveland and has experience constructing green buildings, including the Cleveland Environmental Center. EcoCity Cleveland helped to lead a consortium of local sustainability organizations that worked with the city to create the position and raise funds to support it.
Job description
The City of Cleveland's Sustainability Programs Manager will help the city develop innovative, environmentally friendly ways for the city to save money, create jobs, and improve public health. The new staff person will be housed in the Department of Public Utilities, and will work with all city departments, City Council, and partners in the community to create interdisciplinary programs to make Cleveland a greener, healthier and more prosperous city.
A consortium of local environmental and sustainability organizations, including EcoCity Cleveland, helped the city develop this new initiative and obtain funding for it from the Cleveland Foundation and George Gund Foundation. The initiative will be overseen and advised by a steering committee composed initially of the following representatives:
Natalie Ronayne, Director of the Department of Parks, Recreation & Properties
Julius Ciaccia, Director of the Department of Public Utilities
Robin Halperin, Risk Manager, Division of Water
Matt Zone, Councilman, Ward 17
David Beach, EcoCity Cleveland
Elaine Barnes, Green Building Coalition
Stuart Greenberg, Environmental Health Watch
Linda Kimble, Cleveland Clean Air Century Campaign
Scott Sanders, Earth Day Coalition
Holly Harlan, Entrepreneurs for Sustainability
Katya Chistik, Green Energy Ohio

The initiative will have six overall goals:
Introduce the concept of sustainability long-term thinking that considers the multiple impacts of actions on the environment, social equity, and the economy into all city policies and activities. Institutionalize sustainability as a city value.
Help the city develop innovative, inter-departmental programs that save money, support local businesses and create jobs, improve quality of life, and protect the environment and public health.
Develop collaborations between the city, nonprofit organizations and businesses.
Organize a community process to analyze city operations and develop a comprehensive sustainability plan for the city.
Create a permanent sustainability program within city government that grows and improves over time.
Put Cleveland on the national map as a center of sustainability thought and practice.
The city already has many "green" initiatives related to sustainability, including efforts to save energy, redevelop neighborhoods, improve parks and greenspace, create bicycle facilities, improve public health, and reconnect the city to the lake. The Sustainability Programs Manager will help organize and improve these initiatives, as well as develop innovative new projects with partners throughout the city.
Opportunity areas
A number of "opportunity areas" have been identified where progress can be made:
Energy conservation and efficiency
Green building (including zoning and building codes)
Clean fuels
Air quality
Public health
Transportation choices and street design
Waste reduction and recycling
Greenspace
Given the city's budget troubles, the initial focus will be on sustainability projects that generate near-term financial savings for the city. For example, energy conservation and procurement policies are two such areas of "low hanging fruit."

EcoCity Cleveland
3500 Lorain Avenue, Suite 301, Cleveland OH 44113
Cuyahoga Bioregion
(216) 961-5020
www.ecocitycleveland.org
Copyright 2002-2004
Back to main What Cities Can Do
City of Cleveland sustainability web page
Plain Dealer editorial on 'sustainability czar'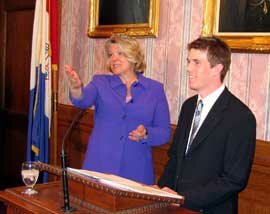 Cleveland Mayor Jane Campbell introducing Andrew Watterson as the city's new sustainability programs manager on May 26, 2005.
Green and sustainable cities present fundamental opportunities to both apply new technologies (such as public transit, district heating, and green building and design) and bring about major lifestyle changes (such as walking, bicycling, and reductions in consumption). Indeed, it seems that cities hold the greatest hope for achieving a more sustainable future for our planet. Any effective agenda for confronting global climate change, biodiversity loss, and a host of other environmental challenges must necessarily include cities as a key, indeed the key, element.
Timothy Beatley, Green Urbanism