Responsibilities
upstream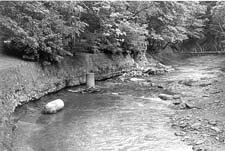 Our biggest water quality problems dont come from a discharge pipe. They come from stormwater washing off the landroads and rooftops, lawns and construction sites, parking lots and driveways. The problems include the flooding volumes of water that flow off the hard, impervious surfaces of our urban and suburban landscapes, as well as all the pollutants that are washed off these surfaces.
Unfortunately, given the fragmentation of local governments in the region, we are ill equipped to deal with watershed-scale problems of stormwater run-off. No one is responsible.
But that could change. Other metropolitan areas have stormwater utilities, and the feasibility of such a utility is being studied in Greater Cleveland.
Someday soon you could be paying a monthly bill to take care of the damage caused by water running off your property. The more impervious surface you have, the more you might have to pay.
Regional services
In the 1970s, the financial and management problems of the City of Cleveland prompted efforts to place a number of city-based services under regional or state control. For example, the Cleveland transit service was merged with a number of suburban bus lines to form the Greater Cleveland Regional Transit Authority. The citys lakefront parks became a state park managed by the Ohio Department of Natural Resources.
And suburbs in Cuyahoga County, who were dependent on the city for water and sewage treatment, sued in court to create regional authorities to manage these essential services. The city maintained control over its water system, but the system was placed under court orders for maintenance and plant improvements, and the city was restricted from using water revenues for other city expenses.
The court battle over the citys sewer system resulted in the creation of the Northeast Ohio Regional Sewer District (NEORSD) in 1972. The court found that a larger, regional authority would be better able to make the huge capital investments necessary to clean up the areas terrible water pollution problems.
After creating the regional sewer district, Judge George McMonagle of the Cuyahoga County Court of Common Pleas issued the following mandate:
"The District shall develop a detailed integrated capital improvement plan for regional management of wastewater collection and storm drainage to identify a capital improvement program for the solution of all inter-community drainage problems (both storm and sanitary) in the District."
This mandate covers two systems that impact water quality:
Wastewaterthe sanitary sewer system of pipes and treatment plants that conveys and treats sewage from homes and businesses; and
Stormwaterthe system of storm drains and water detention facilities that handles rain water and prevents flooding.
Wastewater first
Back in the 70s, the sewer district (which now serves much of Cuyahoga County and small portions of adjoining countiessee sewer district map) decided to focus first on the wastewater problems. The decision was based in part on the obvious need to upgrade the inadequate wastewater treatment plants inherited from Cleveland, as well as the need to build large interceptor sewers to bypass overburdened community sewers and convey sewage directly to the plants. The decision to focus on wastewater facilities was also prompted by EPA regulations and the availability of federal grants, which paid up to 75 percent of the cost of these projects. Since no funding was available for storm drainage, it was decided to defer the storm drainage effort to a later date.
Through 1998, the district invested over $1.4 billion on the planning, design and construction of wastewater enhancements. Initially, the majority of the wastewater enhancements centered on the rehabilitation and reconstruction of the district's three wastewater treatment plants (the Southerly plant on the Cuyahoga River and the Westerly and Easterly plants along the lakefront). Then the district began the planning and construction of the Cuyahoga Valley, Southwest, and Heights/Hilltop Interceptors. The first two have been completed, and the Heights/Hilltop is now nearing completion.
In the 1990s, the district's focus shifted towards the development of strategies to minimize water quality impacts caused by combined sewer overflows (CSOs). Combined sewers carry both wastewater flows from residential, commercial and industrial users, along with stormwater runoff from streets, parking lots and rooftops. Combined sewers have devices that allow a portion of the flow to overflow to waterways during wet weather to prevent basement and street flooding.
There are 126 locations where CSOs discharge to area waterways in the districts service area. They are located in older communities, including the City of Cleveland and portions of Bratenahl, Cleveland Heights, Cuyahoga Heights, East Cleveland, Garfield Heights, Linndale, Maple Heights, Newburgh Heights and Shaker Heights. The sewer district has begun expensive projects along Mill Creek, Doan Brook, Walworth Run and other urban streams to reduce these CSOs. The total cost will be over $1 billion.

Drainage next
Now that the worst wastewater problems are coming under control, the sewer district is turning its attention to storm drainage planning. This is the next frontier of water quality. Increasingly, environmental regulators are realizing that additional improvement in the water quality of streams and lakes will only come through management and control of stormwater. Not only can stormwater be heavily polluted after washing off urban streets, but sudden flows during storms can cause erosion and destroy the aquatic life of streams.
During the past two years, NEORSD staff and consultants have been studying stormwater problems in the districts service area. According to a recently released report, Regional Plan for Sewerage and DrainagePhase I Study, local communities have identified hundreds of stormwater problem areas. Specifically, a recent survey of 49 communities in the area uncovered 334 stormwater problem areas, an increase from 147 areas identified in a similar survey performed in 1978 (see map). Problems included stream debris, bank erosion, stream flooding, basement flooding, and street flooding. The communities said they were spending $17 million per year on maintenance and capital improvement programs to alleviate these problems.
In addition to bearing the costs of stormwater problems, local communities are facing increased environmental regulations for stormwater. In 1999, the 54 communities served by the district will become newly regulated under the U.S. EPA Phase II Stormwater Regulations and will be required to secure a stormwater permit (see Regulatory pressures). Allowable pollution from stormwater will also be limited by new water quality regulations that will set total maximum daily loads for streams from all pollution sources.
New authority?
What can be done to control stormwater problems, many of which cross the boundaries of several communities? Who has the authority to require action? Where will the funding come from to meet new regulations?
In the next two to three years, NEORSD will expand its drainage study and try to answer such questions. One possibility is for the sewer district to become a stormwater utility.
We will identify potential solutions and costswhat it would take to get into this business, says Frank Greenland, the project manager. Currently, we have no legal authority over stormwater, and we cant divert funds from wastewater to stormwater. So we would need new authority and a new revenue stream.
Greenland adds that the NEORSD board of trustees will have to decide whether to seek the political mandate to be a regional stormwater utility. But, clearly, the sewer district is positioning itself for that role.
There are about 230 stormwater utilities in the country, including ones in Cincinnati and Columbus. Most charge fees based on the amount of impervious surface on ones property. In Cincinnati, the typical homeowner pays $2.11 a month for stormwater services.
NEORSD officials know that it will be difficult to convince Greater Clevelanders to pay a bill for stormwater. Drainage is not a high priority issueat least until basements flood. And the pollution impacts from stormwater are not as visible as a burning river. It will take a clear and persuasive explanation of the benefits to convince people that its time to take responsibility for something theyve mostly taken for grantedthe ability to let rain run off their land.
Paying for parking lots?
But doesnt it make sense to charge the Wal-Mart for all the water quality damage caused by its parking lot? And doesnt it make sense for some regional authority to manage stormwater so that development in one community (e.g., Beachwood) doesnt flood the community downstream (e.g., South Euclid)?
Paying a fee for stormwater might make us reconsider our careless land use practices. If the Wal-Mart does a good job managing stormwater on site (perhaps by installing a wetland filtration system in the corner of the parking lot, or by reducing the size of the parking lot), then it might be charged a reduced fee. Or if homeowners landscape their yards with native plants that retain water and refrain from using lawn chemicals, then they also might get a break.
Its all about taking responsibility for our environmental impacts. Our past investments in water quality have dramatically improved our quality of life and the health of our communities. Further progress will require more attention to the water washing off the land.
EcoCity Cleveland
3500 Lorain Avenue, Suite 301, Cleveland OH 44113
Cuyahoga Bioregion
(216) 961-5020
www.ecocitycleveland.org
Copyright 2002-2003