Cuyahoga River facts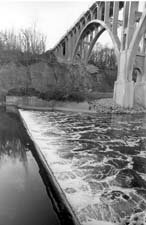 The Cuyahoga River drains 813 square miles of Geauga, Portage, Summit and Cuyahoga counties.
The U-shaped river flows both south and north over its 100-mile course, ending at Lake Erie just 30 miles from its headwaters near Chardon.
Thirty-seven tributaries travel a total of 286 miles into the Cuyahoga.
A 25-mile stretch of the Upper Cuyahoga is designated a state scenic river by the Ohio Department of Natural Resources.
The name "Cuyahoga" is a blend of several Native American names for the river. This combination of names is usually translated to mean "crooked river."
The first Christian church on the river was built by the Delaware Indians and two Moravian missionaries in the mid-1700s.
The Cuyahoga River was the western boundary of the United States from 1795 to 1803.
Around 1790, Captain Samuel Brady jumped 22 feet across the Cuyahoga at Kent to escape Indians. Brady Lake near Kent bears his name.
The first bridge across the Cuyahoga was built in 1803 at Brady's Leap. Today, 85 bridges span the river.
"Standing Rock," just north of Brady's Leap in Kent, was an important Native American landmark on the river. It was used by various tribes for the exchange of information.
The falls for which Cuyahoga Falls is named are currently under water upstream of the Ohio Edison Dam at Gorge Metro Park.
During dry weather, more than half of the Cuyahoga's flow is effluent from the Akron and Southerly wastewater treatment plants.
Source: RiverDay '96 booklet by the Friends of the Crooked River.
EcoCity Cleveland
3500 Lorain Avenue, Suite 301, Cleveland OH 44113
Cuyahoga Bioregion
(216) 961-5020
www.ecocitycleveland.org
Copyright 2002-2003