Evacuation routes from the
Perry Nuclear Power Plant
In case of meltdown:
Listen for instructions on a local Emergency Broadcast System station.
Prepare your home for a three-day absence: Turn off appliances and lights. Be sure all air conditioners and fans are off. Lock windows and doors.
Gather the people in your home. Do not try to pick up children or relatives in schools, hosptials or nursing homes.
Pack necessities.
Put the green "We have been notified" card in a window facing the street.
Leave when advised. Use one car per family. Close all car windows and vents.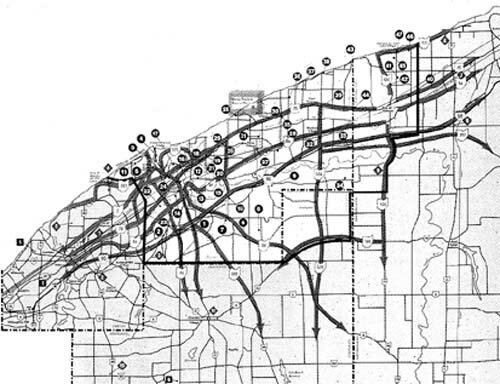 Source: Emergency Preparedness Information packet sent to residents near the Perry Nuclear Power Plant.
EcoCity Cleveland
3500 Lorain Avenue, Suite 301, Cleveland OH 44113
Cuyahoga Bioregion
(216) 961-5020
www.ecocitycleveland.org
Copyright 2002-2003