Farming on the edge
A recent study by the American Farmland Trust found that the United States is squandering its best quality and often irreplaceable farmland at the rate of almost 50 acres an hour. And the major cause of farmland loss is suburban sprawl.

The study, "Farming on the Edge," identified 20 regions as America's most threatened agricultural areas. Ranked seventh was the Till Plain region of Ohio. The dark shading on the map below shows the areas of high quality Ohio farmland most at risk from development pressures.

By urbanizing some of its best farmland, the U.S. is limiting future options to deal with social, economic, food security and environmental problems.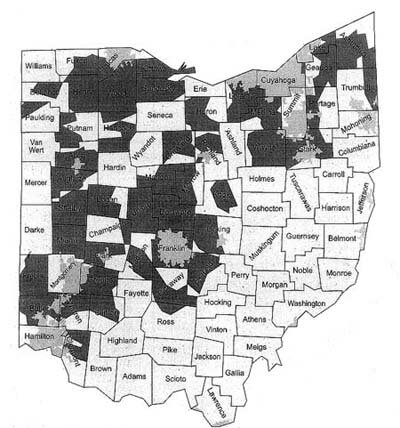 Source: American Farmland Trust
EcoCity Cleveland
3500 Lorain Avenue, Suite 301, Cleveland OH 44113
Cuyahoga Bioregion
(216) 961-5020
www.ecocitycleveland.org
Copyright 2002-2003