The neighborhood platform
For the first time in their history, community development corporationslong on the forefront of Cleveland neighborhood planning and development, with a shared vision of a strong and vibrant cityhave joined together in identifying priority areas and specific action steps for Clevelands new mayor during this pivotal time in the Citys history. The ideas represented in this Neighborhood Platform were developed by the Cleveland Neighborhood Development Corporation (CNDC) in partnership with its 47 member community development organizations, which represent all 36 of the Citys neighborhoods.
The Neighborhood Platform is a blueprint for linking community development, economic development and neighborhood revitalization in a balanced strategy to continue the investment, progress and momentum achieved over the past decade. The collaborating organizations, in developing their neighborhood platform, have taken this election opportunity to look ahead, re-examine Clevelands strengths, implement lessons learned and prepare for the challenges that lie before us.
This platform of neighborhood priorities is endorsed by the Enterprise Foundation, Local Initiatives Support Corporation and Neighborhood Progress, Inc. For more information, call CNDC at 216-928-8100 or see the CNDC Web site.
A summary of priorities and action steps
for a new administration
We support increasing public investment for residential, retail/commercial and industrial development projects, and improving the environment to stimulate private investment in Clevelands neighborhoods.
Create and implement a dedicated annual Neighborhood Trust Fund of at least $10 million to preserve and increase the number of affordable housing units, develop market-rate housing, retain and attract industry, and generate retail/commercial developments in Clevelands neighborhoods.
Establish a separate Department of Building and Housing with up-to-date technology, more staff and training and a streamlined, customer-friendly permit process, to increase the Citys capacity to maintain housing stock and increase construction.
Advocate for the development of four neighborhood Business Improvement Districts and the creation of four new Neighborhood Main Street Districts to provide residents with competitive retail/commercial services.
Protect neighborhoods from highway development and traffic infrastructure projects, using strategies such as traffic calming, noise buffers, and reduced speed through neighborhood retail districts.
Convene civic and corporate leaders to develop a long-term regional economic development strategy and ensure the needs of neighborhood residents are incorporated.
Streamline the process for economic development loan and grant programs.
Strengthen industrial retention and expansion efforts by increasing financial support for the Cleveland Industrial Retention Initiative by 25 percent to provide jobs and economic opportunities for Clevelands residents.
Invest in creative home repair programs such as the Cleveland Fix-Up Fund, especially for seniors and lower-income homeowners.
Protect Cleveland residents from falling victim to unscrupulous predatory lenders and buyers; implement the 2001 Flipping Taskforce recommendations and provide a mechanism for processing predatory lending complaints.
We support enhancing the quality of education for our children and grandchildren and the quality of City services.
Guarantee public accountability for expenditure of school bond revenues; create a process to involve neighboring residents and keep them fully informed.
Increase the capital improvement budget by investigating innovative new funding sources, such as State issues 1 and 2, housing revenue bonds, etc., to upgrade infrastructure in our neighborhoods.
Increase police visibility and improve response time in neighborhoods with basic patrols and community policing programs.
We support expansion of parks, recreation centers, greenspace and public art to improve the quality of life for all Cleveland residents.
Increase the number of playgrounds in Clevelands neighborhoods and increase recreational opportunities for Clevelanders of all ages, and in doing so, involve residents in the planning.
Create new parks in City neighborhoods, starting by lifting the 20-year moratorium on such activity.
Create accessible parks and open spaces on additional lakefront and riverfront properties.
Connect neighborhoods and regional parks through a dedicated off-road trail network anchored by the Towpath Trail and Lakefront Bikeway.
We support increasing the role of community development corporations (CDCs) in neighborhood development projects to add expertise, resources and community perspective.
Increase CDC operating grant programs by 50 percent, to $3.5 million in 2002.
Involve CDCs in developing Community Reinvestment Act agreements with banks to strengthen private investment in neighborhood revitalization.
We support increased use of technology and greater accessibility to City Hall, to benefit citizens, businesses and CDC's.
Implement improved technology at City Hall (voice mail, e-mail, an interactive web-site and more sophisticated data management systems) to increase efficiency, effectiveness and communication.
Create a Mayor's Office on Community Technology and appoint a committee of corporate, educational and community leaders to collaborate on enhancing Clevelanders access to and ability to use technology, with increased support for community computer centers.
EcoCity Cleveland
3500 Lorain Avenue, Suite 301, Cleveland OH 44113
Cuyahoga Bioregion
(216) 961-5020
www.ecocitycleveland.org
Copyright 2002-2003
Reducing traffic impacts
Improving neighborhood parks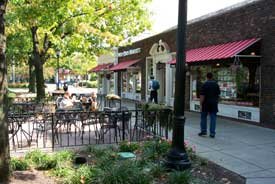 Partnerships for redevelopment: Convenient, walkable, neighborhood business districts like Shaker Square can give the city a competitive advantage.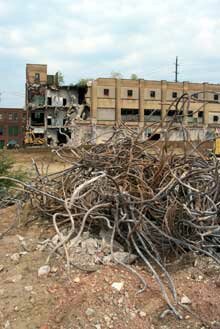 Brownfield challenges: Increase city support for industrial redevelopment.