Ribbon cutting for Cleveland Environmental Center
The Cleveland Environmental Center (our new home and one of the states best green buildings) had its official ribbon cutting on October 16, 2003. More than 700 supporters attended the ceremonies and building open house and reception. As part of the event, EcoCity Cleveland presented its annual Bioregional Hero Awards in partnership with other building tenants.
Here are more photos of the ceremonies under a big tent behind the building.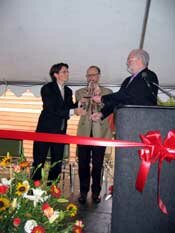 Sadhu Johnston, departing executive director of the Cleveland Green Building Coalition, receiving a state energy efficiency award.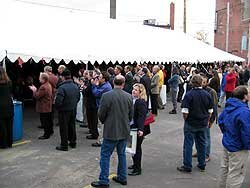 Overflow crowd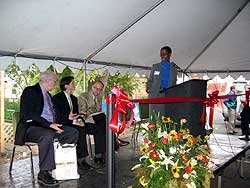 Stephanie McHenry of ShoreBank congratulates the Environmental Center for creating a new anchor for the neighborhood.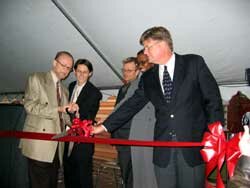 EcoCity Cleveland
3500 Lorain Avenue, Suite 301, Cleveland OH 44113
Cuyahoga Bioregion
(216) 961-5020
www.ecocitycleveland.org
Copyright 2002-2003
More about the Environmental Center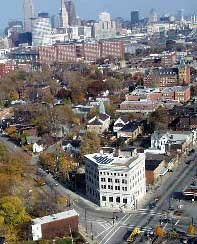 The Cleveland Environmental Center, the home of EcoCity Cleveland, is at the corner of Lorain Avenue and Fulton Road in the historic Ohio City neighborhood just west of downtown.