Bioregional Hero Awards 2003
Here is EcoCity Cleveland's fourth annual set of Bioregional Hero Awards, given to outstanding individuals and organizations working to improve the long-term quality of life in Northeast Ohio by balancing environmental integrity, social justice, and economic prosperity.
The awards were presented on October 16, 2003, at the dedication ceremony of the Cleveland Environmental Center. This year, EcoCity selected the winners in partnership with other environmental organizations and tenants of the building.
2003 Bioregional Hero Awards recipients
Environmental HealthNorman Robbins, PhD, MD, for many years of combining scientific rigor and passion for social justice to focus on environmental health, with particular emphasis on childhood lead poisoning and asthma. He initiated, developed and led an array of organizations, projects, conferences, courses and other activities, including the Case Center for the Environment, the Regional Environmental Priorities Project, and the Greater Cleveland Asthma Coalition. Award presented in partnership with Environmental Health Watch.
Conservation Project of the YearBass Lake Preserve at the headwaters of the Chagrin River in Geauga County, for protecting 606 acres of critical habitat for many rare and endangered plant and animal species, including the last known indigenous population of brook trout in Ohio. The $6 million project succeeded because of the collaboration of many partner organizations, including the Chagrin River Land Conservancy, Trust for Public Land, and Geauga Park District. Award presented in partnership with The Nature Conservancy.
Sustainable BusinessGreat Lakes Brewing Co., for embracing Zero Waste principles throughout their operations, creating new products from waste streams and implementing appropriate technologies to improve the efficiency and performance of their operations and facilities. The company also supports the environmental community by hosting fund raising and educational events. (Not to mention the great beer!) Award presented in partnership with the Weatherhead School of Management and Entrepreneurs for Sustainability.
Environmental JusticeElvin Vauss, for working with quiet dignity and optimism with the Lee-Seville-Miles Citizens Council and the Sustainable Cleveland Partnership to build community capacity to better address environmental justice, improved public health, and pollution prevention. He has recently steered neighborhood leaders toward getting industrial sewers tested for suffocating odors, led neighborhood environmental audits, worked to bring computer and technical trainings to his community, led tours of local industrial sites, reviewed air pollution permits, and organized his community to attend public hearings opposing a cell phone tower. Award presented in partnership with the Earth Day Coalition.
Green BuildingBill Hahn of Horizon Construction, for leadership and dedication in redeveloping older communities in Greater Cleveland with affordable, energy efficient, resource conserving homes-homes that are healthy for people and good for the environment. Award presented in partnership with the Cleveland Green Building Coalition.
Smart GrowthCuyahoga County Treasurer James Rokakis, for developing innovative programs to promote the redevelopment of the urban core of the county, including the Home Enhancement Loan Program (HELP), a linked deposit program that provides low-interest loans for home repair and improvement in communities facing decline and outmigration.
EcoCity Cleveland
3500 Lorain Avenue, Suite 301, Cleveland OH 44113
Cuyahoga Bioregion
(216) 961-5020
www.ecocitycleveland.org
Copyright 2002-2004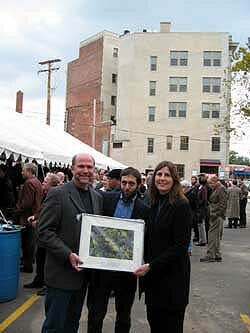 Sustainable Business award winner Pat Conway of Great Lakes Brewing Co. (left), with Grant Marquit of the Weatherhead School of Management and Holly Harlan of Entrepreneurs for Sustainability