High-performance town homes
for the Cleveland EcoVillage
The first major development of the Cleveland EcoVillage project consists of 20 town homes on W. 58th Street just north of Lorain Avenue. The developer is the Detroit Shoreway Community Development Organization. EcoCity Cleveland is providing design assistance with the support of grants from the Cleveland Foundation and the George Gund Foundation.
As of June 2004, construction of all 20 units was complete and all had been sold. The town homes average 1,600 square feet and feature the latest green building features, including energy efficiency, controlled ventilation, non-toxic building materials, and proximity to transit. The architect is Betsy Pettit of Building Science Corporation, a national leader in the design of high-performance buildings.
EcoCity Cleveland has documented the building process and continues to offer workshops so that the lessons of green building can be spread throughout the design and construction industries of Northeast Ohio.
EcoCity Cleveland
3500 Lorain Avenue, Suite 301, Cleveland OH 44113
Cuyahoga Bioregion
(216) 961-5020
www.ecocitycleveland.org
Copyright 2002-2005
EcoVillage Town Homes
Photos of the Town Homes ribbon-cutting
Remarks at the dedication:
The Cleveland EcoVillage and the importance of ecological cities
Neighborhood input
Green features/construction specs
Landscaping features
Realtors like EcoVillage town homes
Builders Exchange magazine coverage
Sales information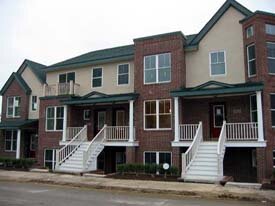 First phase of town home construction.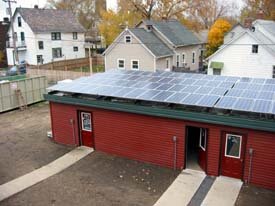 Future owners of the first W. 58th town homes will enjoy
the benefit of renewable energy from the sunphotovoltaic arrays on the roof of the detached garage.