Community generates ideas
for EcoVillage homes
The Cleveland EcoVillage project kicked off the design process for its first major housing development with a community design workshop on February 3, 2001. More then 60 participants provided input on landscaping, community issues, architecture, material use, and energy sources.
The new development is expected to include 20 town houses on a site along W. 58th Street just north of Lorain Ave. The homes will integrate green building techniques, such as energy efficiency, passive solar design, reduction of storm water run-off and healthy materials, while striving for urban design that fosters pedestrian character, neighborly interaction, and architectural quality.
Here are some of the ideas produced at the community workshop:
Landscaping
Incorporate community space into the town house site.
Arrange buildings to support native plants.
Keep existing trees and incorporate larger shade trees.
Create rear yards that offer some privacy and protection.
Provide porches to allow interaction between public and private spaces.
Include a solar dial to track the progress of the sun.
Pay attention to rain water-integrate systems with slanted roofs to bring rain water into the soil, avoid allowing the rain water to flow through gutters and then into the sewers.
Not everything can go onto the site-work with the Zone Rec Center and other facilities to create a play area for kids, parks, dog walking sites, and bike trails in a nearby area.
Community issues
Focus on making houses fit into the neighborhood.
Create programs that prohibit absentee landlords.
Work as a group to monitor the site before construction and watch the streets after construction.
Work with Zone Rec to create more usable community recreational space.
Create retail activity across from Zone Rec to help watch over that space.
Insure that the homes are marketable.
Design the homes to attract a variety of people into the neighborhood-singles and couples, old and young, etc.
Architecture and material use
De-emphasize the automobile-keep them out of public spaces and create a garage option (maybe use car-ports or have optional garages/parking spaces in rear).
Have the houses front the street-set back one or two to create a public space in front.
Develop a diversity of buildings with architectural texture and distinctiveness.
Design the inside unit for versatility-possibly a half-story basement/first floor space for rental, expansion, or office.
Create beautiful buildings with native materials.
Energy sources
Create an ultra-efficient building, the best source of energy is conservation.
Ensure long-term and up-front affordability through efficient energy systems.
Design for adaptability in regard to energy systems, allowing for homes to upgrade as technologies advance.
Make the homes educational for the occupants and neighborhood by explaining ecological features.
Incorporate salvaged materials.
Include new technologies as demonstrations.
Design for cohabitation of nature and building.
The Cleveland EcoVillage project aims to incorporate the best environmental thinking in the redevelopment of the neighborhood around the W. 65th Rapid station. Project partners are the Detroit Shoreway Community Development Organization and EcoCity Cleveland. Because the EcoVillage aims to introduce many new design techniques to the Cleveland area, a special effort is being made to create opportunities for the lessons learned to be shared with the local neighborhood and the local building community.
EcoCity Cleveland
3500 Lorain Avenue, Suite 301, Cleveland OH 44113
Cuyahoga Bioregion
(216) 961-5020
www.ecocitycleveland.org
Copyright 2002-2003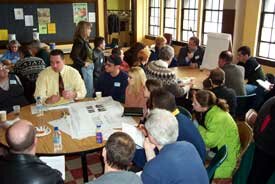 Neighborhood residents discuss plans for new town homes on W. 58th Street.