The Dike 14 nature
preserve concept plan
The Dike 14 nature preserve concept plan was developed by the citizens Dike 14 Committee under the guidance of local naturalist Sean Zadar. This plan depicts an 88-acre Dike 14 nature preserve and features:
Conservation of existing, diverse and high-functioning habitats
The addition of 15-20 acres of wetlands; and
The addition of amenities for public access and nature education, such as nature trails, boardwalks, coastal
overlooks, benches, and educational/informational signage
The plan also shows improvements to the Gordon State Park property that include a new nature education building, additional parking, greatly improved landscaping, and additional and upgraded park amenities for picnics, children's play areas and fishing.
The Dike 14 Committee submitted its nature preserve concept plan to state and city officialsto Ohio Governor Bob Taft, Ohio Department of Natural Resources Director Sam Speck, Cleveland Mayor Jane Campbell and the Cleveland Lakefront planners.
This plan has the signed support of 841 Ohio citizens, and 16 organizations, including Audubon Ohio; Earth Day
Coalition; Lake Erie Nature and Science Center; Nature Center at Shaker Lakes; Ohio Coastal Research Management Project; Ohio Public Interest Research Group; Bratenahl Land Conservancy; Tinkers Creek Land Conservancy; Sierra Club of Northeast Ohio; the Leagues of Women Voters of Cleveland, Cuyahoga County, Euclid, Geauga County, Shaker Heights and Ohio; and naturalists from the Cleveland Metroparks.
For more information, please contact either
or .

EcoCity Cleveland
3500 Lorain Avenue, Suite 301, Cleveland OH 44113
Cuyahoga Bioregion
(216) 961-5020
www.ecocitycleveland.org
Copyright 2002-2003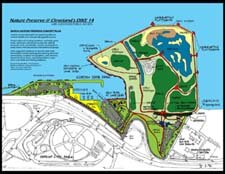 Dike 14, an 88-acre proposed lakefront park at the foot of MLK Boulevard with a wetland area, bird observatory, an extensive walking trail and nature center (click on image to enlarge).