Bikes in Toronto
Bike skeptics often say that bicycling will never be a serious mode of transportation in Cleveland because the weather is too bad. To refute that assumption, just look at Toronto, a city that has invested heavily in bike facilities.
On a recent trip, EcoCity staff saw bike lanes throughout the city and thousands of bike parking posts (see photos below). The result: a culture that accepts bikes and uses bikes.
For more information about the City of Toronto's efforts to facilitate bicycling, click here.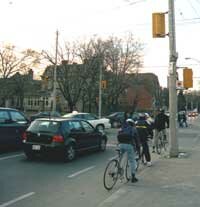 Bike rush hour in Toronto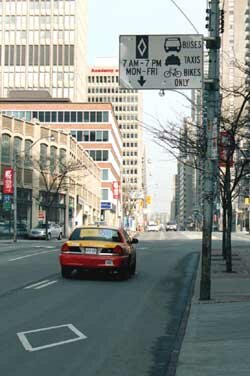 Lanes reserved for bikes, buses, and taxis during peak times.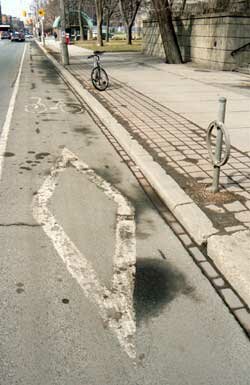 Bike lane and bike parking posts.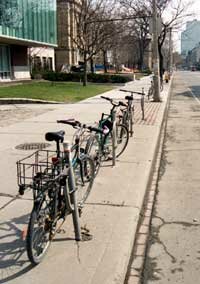 Bike parking lines almost every street.
EcoCity Cleveland
3500 Lorain Avenue, Suite 301, Cleveland OH 44113
Cuyahoga Bioregion
(216) 961-5020
www.ecocitycleveland.org
Copyright 2002-2003