Bike advocacy resources for identifying and fixing road hazards
On September 6, 2003, the Friends of the Circle Heights Bike Network held its first eventThe Rolling Block Party. The focus was to identify road hazards and record them so that the group could engage municipalities in a letter writing campaign to have the hazards eliminated.
On a sunny, 70-degree Saturday afternoon, twenty volunteers arrived on bikes under the Coventry Road arch, were paired up and supplied with road hazard survey forms. The pairs spent an hour and a half riding the streets on the network to identify and record the locations of potholes, sunken or protruding access covers, debris and other big impediments to riding on the network. By identifying the actual locations of road hazards and formalizing a request to have them repaired, the bike advocates both invite and engage the municipality to repair those hazards.
The next event for the Friends group is the Holiday Hop & Shop on December 13, 2003 from 2-4 p.m. Come out and support your local merchants as we conduct an inventory of existing bike parking facilities at the retail and commercial districts in the Circle-Heights network. Ride your bike (weather permitting) or drive to Shaker Square, Cedar-Lee, Euclid Avenue, University Square, and on. The inventory of bike parking is a useful tool for cities and bike planners working to improve the conditions for bicycling in the network by assuring that safe parking exists or, if not, where it should be added.

EcoCity Cleveland
3500 Lorain Avenue, Suite 301, Cleveland OH 44113
Cuyahoga Bioregion
(216) 961-5020
www.ecocitycleveland.org
Copyright 2002-2003
Back to Friends of Circle Heights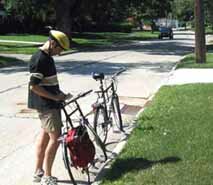 Tools for bike advocates:
1. You can help improve cycling conditions by reporting any hazards you experience in your bicycle travels. Examples of hazards include ruts or chuckholes in pavement, dangerous drop-offs at the edge of pavement, unswept road portions covered with debris, left turn and stop signals not responding to bicycles, and dangerous parallel drain grates. Click here to download the hazard form (pdf 33 KB). Mail the form to Ryan McKenzie, EcoCity Cleveland, 3500 Lorain Ave., Suite 301, Cleveland, OH 44113 or fax to 216-961-8851. Your report will be forwarded to the proper authorities.
2. The National Bicycling and Walking Center addresses both drainage grates and roadway maintenance issues. This information was also published as a FHWA report, "Implementing Bicycle Improvements at the Local Level," publication number FHWA-RD-98-105 (September, 1998).