Cleveland Institute of Art and Friends collaborate on wayfinding
Group to encourage communities to adopt
wayfinding sign program highlighting the bike network
In Winter 2003, The Friends of the Circle-Heights Bike Network and Professor Bob Kelemen's community graphics class at the Cleveland Institute of Art started working on a bicycle wayfinding sign program for the network. This unique design will serve to inform the public that a user-friendly bike network exists in their community. The primary purpose of the sign program is to encourage more people to ride bikes to and from all of the great destinations in the Heights and University Circle area.
Into early 2004, the team of students and the Friends group refined the initial designs and gathered feedback from the community about the look and application of the designs to the street signs. The Friends group continues to encourage the cities in the network to adopt the wayfinding sign program. It will be a positive step in making an already bike friendly community even better.
Check back for updates on the design and implementation of the Circle-Heights Wayfinding signs. your comments.
EcoCity Cleveland
3500 Lorain Avenue, Suite 301, Cleveland OH 44113
Cuyahoga Bioregion
(216) 961-5020
www.ecocitycleveland.org
Copyright 2002-2003
Back to Friends Circle-Heights
The design process
The finalists: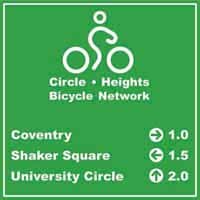 CIA student Michael Mills' design approach
is whimsical and informative (click to enlarge)

CIA student Terry Szarka's design is more
modern (click to enlarge)